Despite warning, Valley still scurried for snow supplies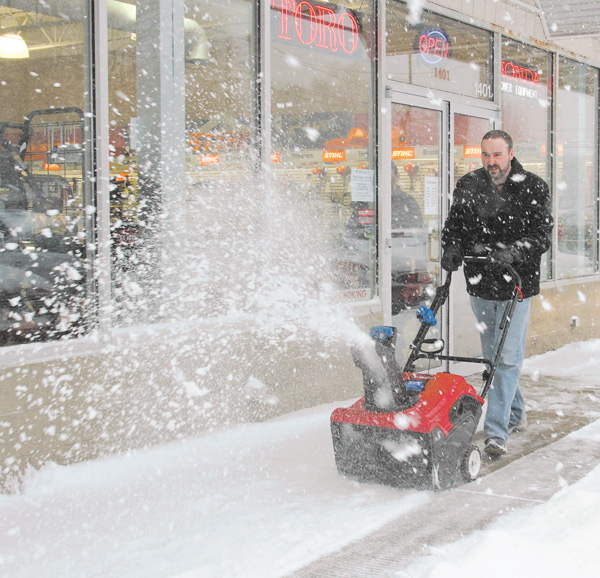 ---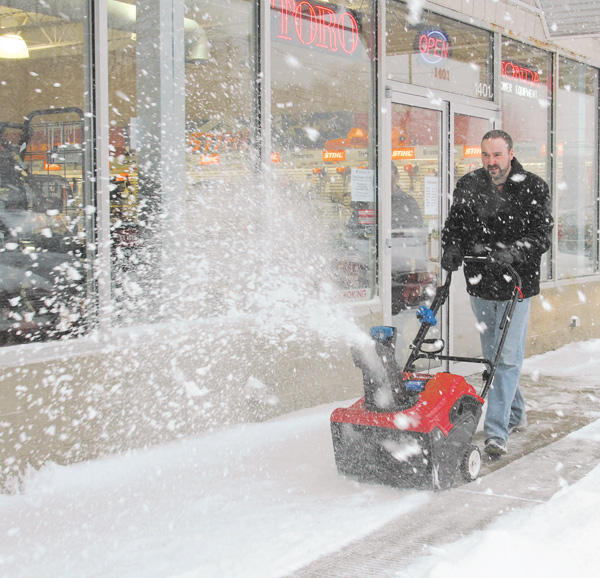 Photo
Jared Pekar, sales manager at Do Cut in Boardman, uses a snow blower in front on his store along state Route 224. Area retailers credit Wednesday's storm for a spike in the sale of such machines.
RELATED: • Youngstown spots stay open for those braving the storm
• Large powerful snowstorm heads east
Staff report
YOUNGSTOWN
The snow came fast and furious and on the predicted schedule Wednesday morning in Northeast Ohio.
And it fled the area sooner than expected with the winter warning lifted at 6 p.m. Wednesday instead of the forecasted 7 a.m. today, while a winter-weather advisory stayed in effect until 9 p.m.
Still, several folks had to scurry to ready themselves for the season's first major snowfall.
Dante Terzigni Sr., president of Do-Cut, said the business already had sold 25 snowblowers within the first 90 minutes of being open Wednesday.
"People tend to buy snowblowers if we have a big snow early in the winter," he said. "They consider it to be insurance for the rest of the winter."
For a number of people, it gets a little more difficult each year to shovel snow. Some of them will reach the point this year where they want a machine to remove the heavy white stuff, he said.
"There are a few people who die each year from shoveling snow," Terzigni said.
At Home Depot in Boardman, as the snow fell outside at midmorning Wednesday, customers were visibly making precautions. Many of them were buying shovels and salt.
"We're selling a lot of snow shovels, snow throwers and salt," said Buddy Colley, general manager.
Lowe's in Boardman estimated it had already sold more than 50 shovels and around 15 snowblowers Wednesday morning, said Nate Sikora, assistant store manager. On average each cart leaving the store contains two bags of salt.
"There were people waiting to get in around 6:15 this morning and we don't open until 7 [a.m.]," he said.
Both Home Depot and Lowe's still had adequate supplies of salt remaining.
Meanwhile, Mahoning Valley snow-removal crews went into the season's first big snowstorm with several major advantages, including having crews on regular duty as the storm arrived, their supervisors said.
"This storm is no surprise," said Ken Kenst, Salem service and safety director.
"Everybody has got plenty of salt" after last year's mild winter, he added.
"The men are all well-rested" from the Christmas holiday, Bert Dawson, Columbiana County engineer, said of his salt and plow truck drivers.
"The big advantage of this one is it's in the daylight," at its start, making it easier for salt and plow truck drivers to see in heavy snow, Dawson added.
All supervisors said their crews would work whatever overtime is needed.
The normal quitting time for road crews in Columbiana County is 3:30 p.m., but, Dawson added: "We'll stay as long as it takes."
Using 14 trucks, Dawson's crews are responsible for clearing 180 miles of county roads. His department has a main garage in Lisbon and satellite garages in North Georgetown, near Alliance, and Glenmoor, near East Liverpool.
Dawson said the precipitation began in Columbiana County as sleet at about 9 a.m., with the snow starting around 9:50.
By 10:20, it was snowing throughout Columbiana County, with heavy snow and low visibility on U.S. Route 224 in Boardman 20 minutes later.
In Youngstown, Tom Sakmar, street department foreman, said the Ohio Department of Transportation had pre-treated the 711 connector and the Madison and Himrod avenue expressways with brine Wednesday morning before the snow started.
Seventeen city trucks were to salt and plow 1,100 lane-miles of city streets, with priority given to the main streets, then secondary streets and then side streets, in that order, he said.
Because this storm brought "heavy snow that comes down hard and fast, you really don't gain until the snow ends," and crews have a chance to catch up, Sakmar said.
"It's going to take them a good 24 to 36 hours to clean up the main roads," Sakmar said, adding that city crews probably won't be able to start work on the side streets until this morning.
In Trumbull County, the Warren Operations Department, which handles road maintenance and plowing, sent out its 10 trucks for road treatment and plowing.
Its 20 employees were going to use salt and beet juice to prepare the road for the snow and start plowing when necessary.
The drivers frequently work in teams of four to seven trucks that can clear some of the wider sections of road simultaneously, said Nunzio DiVieste, acting operations superintendent.
DiVieste reminds motorists should remember to give plows and salt trucks plenty of room. No on-street parking ban was in place Wednesday, but motorists should avoid on-street parking where possible today, he said.
The Trumbull County Engineer's Office sent out 25 of its 29 trucks early Wednesday to treat roads with a half-and-half mix of salt and anti-skid material, said Greg Alberini, highway superintendent.
The department does focus on some roads with lots of traffic or hazards such as hills more than some others, Alberini said.
Among them are Tibbetts-Wick, Warren-Sharon, Bazetta, North, North River and King-Graves roads and North Park Avenue.
Workers on the day shift were likely to work until about 8 or 9 p.m., go home and come back this morning, with other drivers filling in during the late-evening and early-morning hours, Alberini said.
The department has plenty of salt and road-treatment material, but it also ordered more, DiVieste said.
The city of Salem has four 21⁄2-ton dump trucks and three pickup trucks for snow and ice removal on 64 miles of streets and 34 miles of alleys, with the pickup trucks used on the smaller streets and alleys.
First priorities to be cleared are main streets, such as State Street and Lincoln Avenue, and main highways leading into the city, officials said.
With predicted snow accumulations of an inch an hour, the biggest problem with this storm is "probably the wind," they said, adding that wind-induced drifting of snow requires repeated plowing of affected streets.
Campbell was ready for the snow, said city Administrator Jack Dill.
"We haven't used any salt yet this year," he said Wednesday morning as snow was already clogging the streets.
"We're well supplied. Trucks have been gone over, and have new tires and brakes."
"Maintenance-wise, we're ready to go and in better shape than in years," he continued.
The street department was to work overtime as more snow was expected to fall Wednesday evening, he said.
In Lowellville, police were busy with cars stuck on the hills that lead in and out of the village.
Village administrator Bill Meehan said drivers need to avoid the steepest hills in snow emergencies.
He said the village has enough salt and slag, with more arriving Friday.
"But you can't put too much salt down until the snow melts," he said.
Plows were out early in Canfield, according to Joe Warino, city manager, adding the city did not issue a parking ban like other communities.
Mill Creek MetroParks has no plans to close today, said Linda Kostka, metroparks marketing director.
No events were scheduled for today, with exercise classes on break through the New Year.
But the trucks were out in force to keep park roads clear, said Perry Toth, operations director for the parks.
The Ohio State Highway Patrol in Mahoning County reported 17 weather-related accidents from 3 to 9 p.m. Wednesday. The patrol in Trumbull County responded to five crashes during that time frame. Neither post reported any injuries from the accidents.
Meteorologists said the Mahoning Valley can expect more snow Thursday morning, but accumulation should be less than one inch. However, they said more snow may come our way Friday night and into Saturday.