Published: Thu, December 27, 2012 @ 12:20 a.m.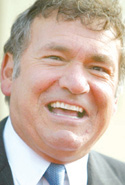 Photo
By Ed Puskas
WARREN
Sam Covelli just wrote a $10 million check to Ohio State for the construction of a new athletic arena on campus.
Now the entrepreneur's company, Warren-based Covelli Enterprises Inc., is reportedly about to invest in another sports enterprise — PGA Tour golfer Jason Kokrak, a Warren native and John F. Kennedy High School graduate.
Covelli Enterprises, the largest franchisee of Panera and O'Charley's restaurants, is set to announce it will sponsor Kokrak as the second-year pro begins play on tour in 2013.
A news conference is planned for Friday morning at Covelli Enterprises' corporate headquarters, according to Allen Ryan, the company's director of corporate affairs.
Kokrak made his full-time PGA Tour debut in 2012. The former Xavier University golfer had a second-place finish and was 119th on the money list ($750,221 in earnings) to secure his tour card for 2013.