Bench dedication for slain YSU student set for Jan. 5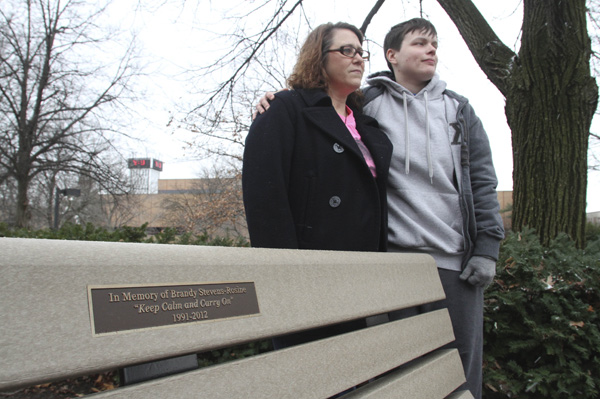 ---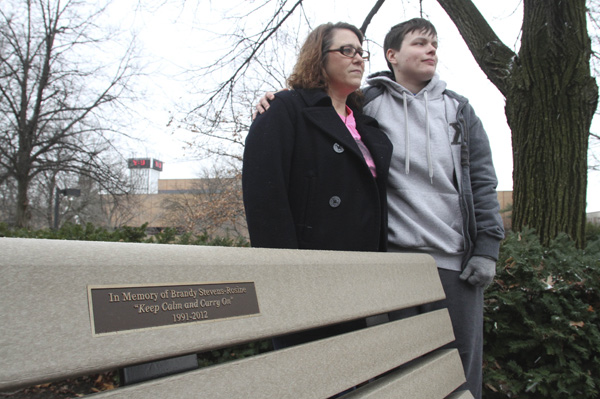 Photo
Lorraine "Carrie" Rosine, left, and Krysti Horvat stand near a bench on the campus of Youngstown State University dedicated to Rosine's 20-year-old daughter, Brandy Stevens-Rosine, who was murdered earlier this year. Benefit events and bracelet sales funded the purchase of the bench.
YOUNGSTOWN
Some days are worse than others for the family and friends of Brandy Stevens-Rosine.
"The hardest day was Nov. 30, her birthday. I feel like a part of me is missing," said her mother, Carrie Rosine. "Being with our family — being together — will get us through this holiday."
But a day she is looking forward to is Jan. 5, when a bench in front of Kilcawley Center at Youngstown State University will be dedicated to the memory of her 20-year-old daughter, who was brutally murdered in May.
Her mother wants the bench to serve as place for friends of her daughter, a YSU student, to gather. Longtime friend Krysti Horvat expects that's exactly what will happen.
"It's incredible to have something tangible and a place to go. I hope to randomly see her friends sitting at the bench," she said.
The noon dedication ceremony is open to the public.
"Her story touched their hearts," Rosine said. "A lot of people pulled together to make this happen, and it would not have happened without the public's backing. I think they're entitled to be a part of this."
A memorial fund was started this fall. Benefit events and bracelet sales funded the purchase of the bench. Donations still are being accepted for an annual scholarship and can be made online at BrandyRosine.com or in person at any Huntington Bank branch.
The bench bearing her name was the first goal of the Brandy Stevens-Rosine Memorial Fund. It's inscribed with one of her favorite sayings, "Keep Calm and Carry On," Rosine said.
The phrase is a pop-culture reference that began when the British government issued a poster with the text intended to boost morale during World War II. Rosine said her daughter had reprints of the poster.
"She loved that saying, too, and really stood by it. As I go through everything, I can hear her saying it," Rosine said.
Some days it's easier to keep calm than others. Rosine and Horvat are planning a spaghetti dinner in February and other events to benefit the memorial fund.
"It helps to have daily goals," she said. "We want to keep her memory alive."
Rosine, Horvat and others also are preparing for the trial of the two women accused of luring their loved one from her Beaver Township residence to Cochranton, Pa., and killing her.
Ashley Marie Barber, 20, and Jade Nichole Olmstead, 18, are charged with criminal homicide, criminal conspiracy to commit criminal homicide and tampering with evidence. Prosecutors say the women severely beat Stevens-Rosine and buried her alive.
If convicted, the women face a mandatory life prison sentence. The trial is set for early next year.