Steelers Roethlisberger doesn't look like same guy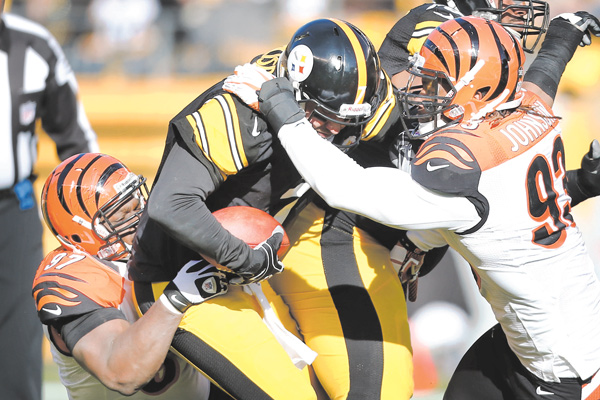 ---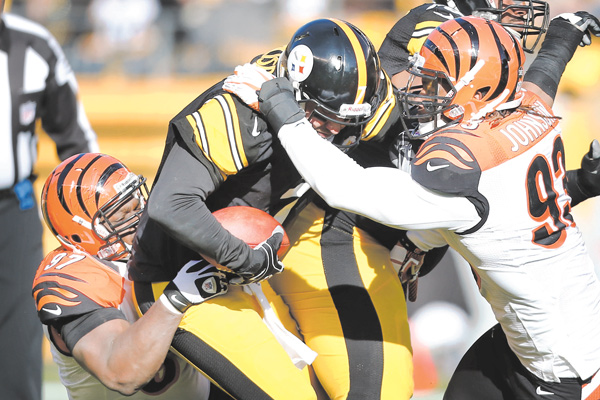 Photo
Pittsburgh Steelers quarterback Ben Roethlisberger (7) is sacked by Cincinnati Bengals defensive tackle Geno Atkins (97) and defensive end Michael Johnson (93) in Sunday's loss in Pittsburgh. The Steelers failed to make the playoff s for only the fourth time since 2001, and Roethlisberger says the team's collapse has to do with him not playing well enough down the stretch.
Steelers Roethlisberger doesn't look like same guy
Associated Press
PITTSBURGH
Steelers quarterback Ben Roethlisberger looks at his passing statistics, and they're not all that bad.
His passer rating is up from his career average, as well as his average passing yards per game.
The completion rate is where it has been over the course of an eight-year career.
Only once before has Roethlisberger thrown more touchdown passes per game or fewer interceptions per game.
But it's been Roethlisberger's play, by his own admission, that's a key factor in Pittsburgh (7-8) failing to make the playoffs for only the fourth time since 2001.
"A lot of it just has to do with me not playing well enough down the stretch," Roethlisberger said. "Fourth-quarter drives or last-minute throws, I'm just not making it happen, so my best answer would be that I just didn't play well enough."
The Steelers controlled their playoff fate until their 13-10 loss to Cincinnati on Sunday eliminated them from the postseason.
Just as had happened one week earlier against Dallas, Roethlisberger threw an interception during a tie game that led to the opponent kicking a winning field goal.
Those losses joined others earlier this season against Denver, Oakland and Tennessee in which Pittsburgh not only blew fourth-quarter leads, but had the ball in the final minutes with a chance to drive for a potential winning score.
The Roethlisberger-led offense failed each time. In the season opener at Denver, he threw an interception to Tracy Porter that was returned 43 yards for the clinching touchdown.
"In the past, I prided myself and us in fourth-quarter comebacks," Roethlisberger said. "I've always said that you don't want to have them, because that means you haven't done well early in the game, but we've always been good at it. And this year, we just weren't. I don't think there's any rhyme or reason why, (but) it was just a year when I wasn't."
Roethlisberger has thrown only eight interceptions this season, but many came at crucial times. Six came in defeats, four in the fourth quarter or overtime. His first interception in the must-win game against the Bengals on Sunday was returned for Cincinnati's only touchdown.
This season, Roethlisberger's 84.4 passer rating in the fourth quarter and overtime is by far lower than during any of the other three quarters.
That would seem to be in contrast to the clutch reputation Roethlisberger has earned over the course of a career in which he has led 22 fourth-quarter comebacks and 29 game-winning drives during the regular season and also led a memorable comeback in the final minutes of the 2009 Super Bowl.
"I don't think there's any reason to go panic about it, because I've been pretty good for eight years doing it and had one not-so-good year on it," Roethlisberger said. "I think I played pretty good football, though, other than those situations."
To be fair, Roethlisberger was under center for three fourth-quarter comebacks this season. But even coach Mike Tomlin acknowledges his two-time Pro Bowler just wasn't the same in such situations this season.
"Just not making the critical plays," Tomlin said. "Not a lot has changed in terms of structurally for how we prepare for those moments and how we deal with those moments. They're not coming together for us, and I'm not going to try to make excuses in that regard."