You can't beat this place to eat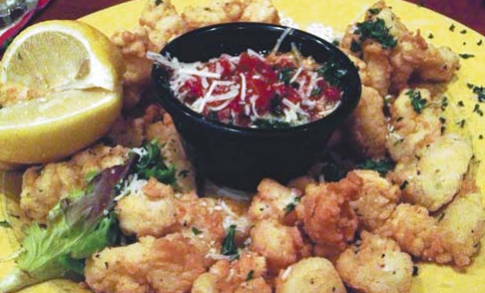 ---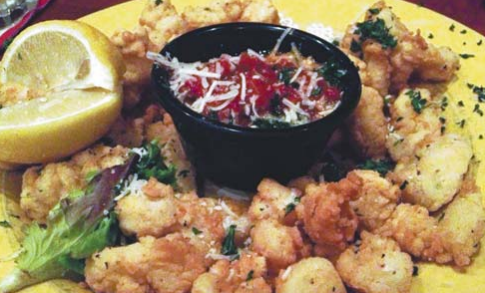 Photo
Cafe Capri's Calamari Fritti.
IF YOU GO- CAFFE CAPRI
Where:
8000 Market St., Boardman
Phone: 330-726-9900
Hours:
11:30 a.m. to 9:30 p.m. Monday through Thursday; 11:30 a.m. to 10:30 p.m. Friday and Saturday; 3 to 8 p.m. Sunday; lounge open later.
Online: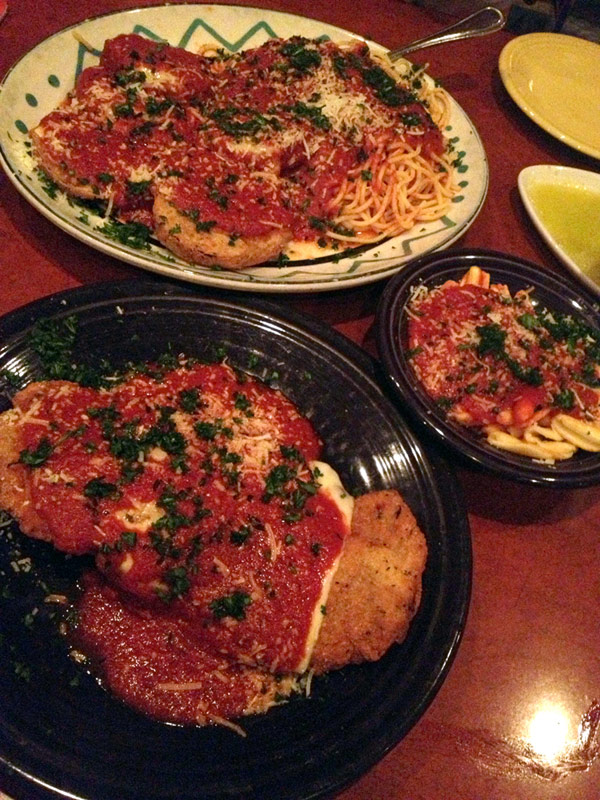 Photo
Cafe Capri, from top, Eggplant Parmigiana and below is the Veal Parmigiana.
by Ross Morrone
If you are reading this article, two things are certain: the Mayans were wrong, and you survived the start of the holidays.
That means all you have to do is get through the New Year, and then you can start counting down the days until you blow your resolutions.
This week my wife once again joined me for my Food:30 review. The only difference now is she is plus one. The one being that little nugget growing inside her that is our first child. I could not be more excited, and she could not be hungrier these days. So we headed to one of her favorite restaurants in the area, Caffe Capri.
If you haven't been to Caffe Capri during the holidays, you are missing out on both a good meal and a great atmosphere. As soon as you walk through the door you are met with holiday lights, ornaments and music filling every room.
It immediately puts you in the mood for food and relaxation. This restaurant holds a special place in our hearts, as this was where I asked Steph to marry me.
When we were seated in our booth I noticed how busy they were for a Monday night. There were several get-togethers happening as drinks, food, presents and laughter were passed around the tables surrounding us.
We started our meal with a large order of the Calamari Fritti ($11). This calamari is hand-breaded and fried then served with spicy marinara. The hand-breading may not sound important, but you can see the difference in each piece as they had a nice thick coating of seasoned flour. When we dipped them in the marinara, that thick coating allowed for the sauce to be absorbed. Each piece was tender with a hint of salt from the squid and zest from the sauce. Steph loves calamari, and this is by far her favorite place to get it from.
For the main course I ordered the Veal Parmigiana ($17). Veal is one of my favorite meats to get when it's on the menu because of how tender and flavorful it is. This was a cutlet of veal, breaded, covered in Italian cheeses and hidden under a blanket of Mama Q's sauce. The Mama Q sauce is what separates Caffe Capri from other Italian restaurants.
This homemade sauce has a thickness to it yet it is not chunky. There is sweetness that helps mask the normal acidity tomato sauces tend to portray. It's obviously a perfected family recipe from the old days. Each bite is tender, crunchy, sweet and savory. Of all the veal dishes I've tried, this one is my absolute favorite in its preparation and quality.
Steph ordered the Eggplant Parmigiana ($13.50). It's everything my dish was except with eggplant. Even with the same ingredients this dish is able to achieve a completely different flavor profile. Eggplant is rich in flavors, and when it's cooked those flavors seem to become enhanced.
Each bite was packed with soft textures and a slight outer crunch of crispy breading. Steph also acknowledged how good their sauce is and why she considers it her favorite. She also noticed how light the eggplant felt as she began to eat it, but she eventually had to throw in the napkin and get it boxed up to go.
Although she was eating for two and I consistently act like I am, we were both unable to finish our meals. That's the other thing that always impresses me with Caffe Capri. The portion size is what I would expect when I walk into my grandmothers house ... so much food that we end up extending our stay just so we can eat two or three times. But this time we were stuffed!
That being said, we got a piece of Midnite Chocolate Cake ($6) to go. We sat on our couch and watched "Christmas Vacation" for the twenty-ish time and forked through layers of chocolate cake, fudge and sweet whipped cream. It was a perfect finish to a wonderful date night.
Family, food and fun is what the holidays are all about for me. As we head into our last one of the year, award yourself with a nice night out and share in the atmosphere and food Caffe Capri has to offer. Explore their menu, try something new and don't forget about dessert!
Happy New Year, and I look forward to another exciting year of eating everything this Valley has to offer.
Thanks for reading!