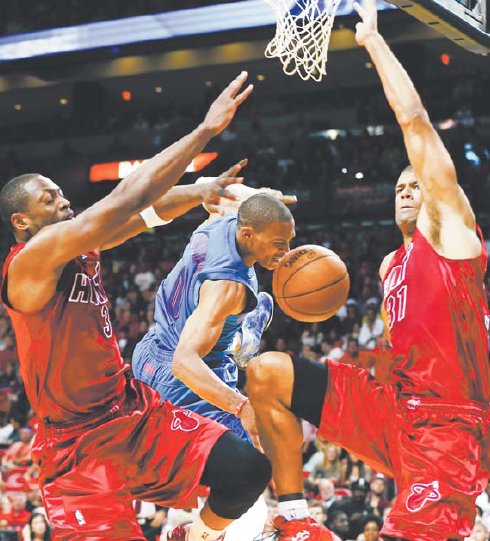 ---

Photo
The Oklahoma City Thunder's Russell Westbrook (0) is blocked by the Miami Heat's Dwyane Wade (3) and Shane Battier (31) during the second half of Tuesday's NBA game in Miami. The Heat downed the Thunder, 103-97.
LeBron, Heat topple Thunder in rematch of last June's Finals
Associated Press
miami
LeBron James and Kevin Durant exchanged words. Dwyane Wade and Serge Ibaka did a little shoving. Five technical fouls were called, and Russell Westbrook punched a table in frustration.
This NBA Finals rematch met expectations.
And like that series, it ended with Miami on top.
James had 29 points, nine assists and eight rebounds, Wade scored 21, and the Heat survived a frantic finish to beat the Oklahoma City Thunder 103-97 on Tuesday.
"Felt a little bit like a different month," Heat coach Erik Spoelstra said. "Regardless of what your script is coming into the game, when you play this team, it's not going to go according to script. They're too good."
But on this night, much like last June, the Heat were better.
Mario Chalmers scored a season-high 20 for the Heat, who were 19 for 19 from the foul line, the second-best effort in franchise history behind only a 30-for-30 game in Boston on March 24, 1993. Chris Bosh added 16 for Miami, which has beaten the Thunder five straight times going back to last June's title series.
Durant scored 33 points and Westbrook added 21 for Oklahoma City, but both Thunder stars missed potential game-tying 3-point attempts in the final seconds.
"It was a great game. I can't complain," Thunder coach Scott Brooks said. "We could have done a better job of not turning the ball over in the first half. All in all, it was a great game to play and a great game to coach. Unfortunately, we didn't come out with the win."
It's the first losing streak of the season for the Thunder, who had been 4-0 after losses. Ibaka and Kevin Martin each scored 15 for Oklahoma City.
The game had a little of everything — a fast start by the reigning champions, a scrum after a hard foul that led to double-technicals on Wade and Ibaka early in the fourth, an easy rally by the Thunder from an early double-digit deficit, and even workout partners in Durant and James barking back and forth in the final minutes.
Such was the intensity that James slumped over the scorer's table with 1:08 left, exhausted.
"I'm tired as hell right now," James said — and that was more than an hour after the game ended.
While the stars were stars, the Heat got help from one unexpected source. Chalmers was making everything, even unintended plays.
Allen lost possession on what looked to be a pass to no one, but Chalmers picked up the bouncing ball on the right wing, whirled and made a 3-pointer — putting Miami up 86-79 with 8:14 left.
In the end, that cushion was necessary.