Hams Beauty & Barber offers hairstyles, then life coaching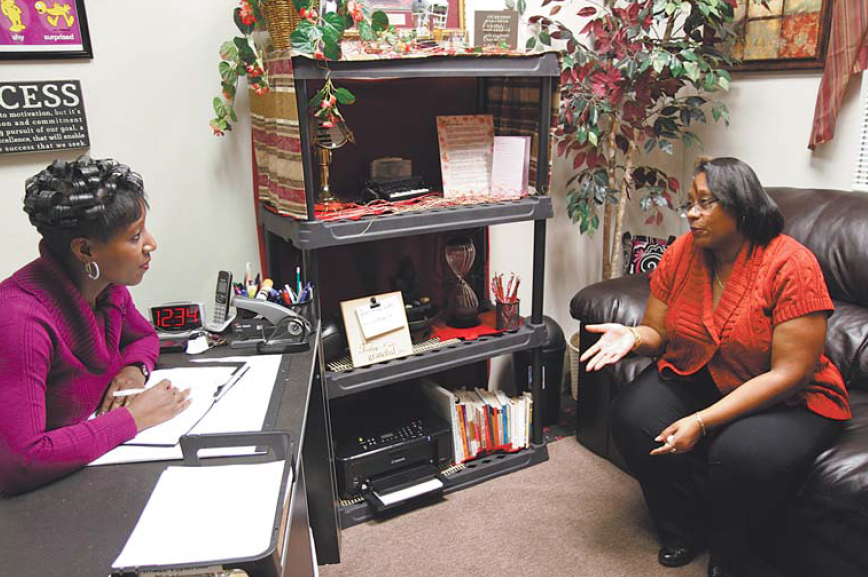 ---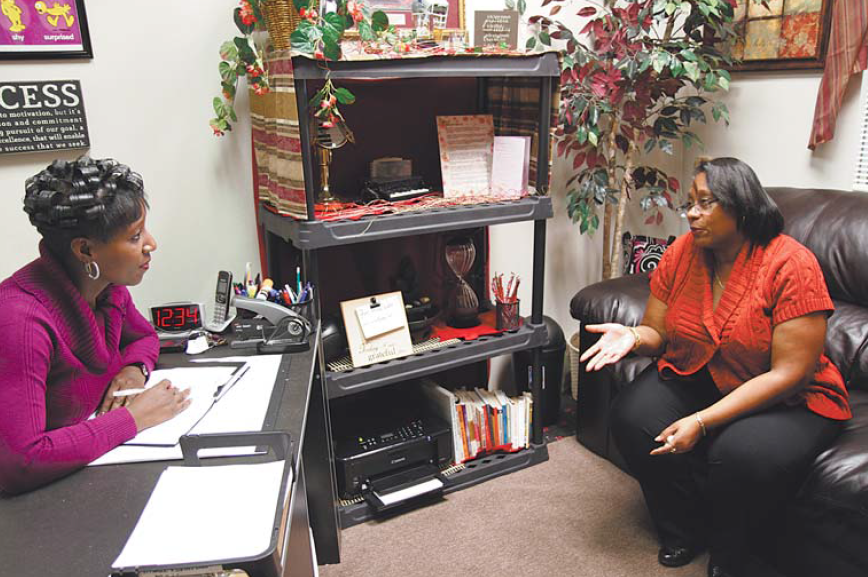 Photo
From left, Kim Hamilton, a life coach at Hams Beauty & Barber in Liberty, talks with Symone Hurt, one of her and barbers finish up customers and offer life coaching, all under one roof.
By JAMISON COCKLIN
jcocklin@vindy.com
LIBERTY
If a bartender isn't willing to lend an ear, than a barber might be the next best thing.
At least this is how entrepreneur Kim Hamilton sees it, but she took the idea to an entirely different level.
"As a nurse I take care of physical wellness and mental health, but I noticed when I was getting my hair cut that the people sitting in the chairs had so many issues — issues with life, career, stress, finances." Hamilton said. "I was looking to do something different where I wasn't hands-on but still making a difference."
Hamilton, along with brother Elliott, decided to open Hams Beauty & Barber in May 2011 on Belmont Avenue.
Unlike other salons, after Hamilton's stylists and barbers finish up, customers also can receive life coaching — all under one roof. House calls and group sessions also are available.
"People look good on the outside, and they're still not feeling good on the inside. People have all the bells and whistles in their lives, but they're still searching for something," Hamilton said.
"There's still a need for people to be validated, appreciated and in control of their circumstances," she was quick to add with a noticeable confidence. "I thought a setting such as a grooming salon is perfect for helping with that."
Hamilton formerly owned a home-care agency. She's been a registered nurse since 1988, and was certified as a life coach in 2006 after taking a 22-week course.
Her business model, however unconventional, has generated growth. Her two barbers and one stylist are so busy that Hamilton is looking to hire two additional stylists and she's partnered with Tula O'Neil, who operates a private life-coaching practice in Canfield.
Symone Hurt, who recently began looking after her aging parents, praised Hamilton for helping her adjust.
"Because of her background as a nurse, she can tie it all together," Hurt said. "It has more perspective and clarity for me. Coming from my avenue, she's able to address a lot of issues in multiple areas."
Life-coaching services at Hams cover everything from stress and anxiety management to conflict resolution and weight control. But the goal, Hamilton says, differs from that of a psychiatrist or psychologist.
"We are not therapists — they come from a clinical perspective, they focus on the past a lot," she said. "We come from the client-centered perspective. That client sets the agenda, and we're moving from the present forward — we do not treat or diagnose."
This means helping clients to visualize their goals and finding ways to achieve them, rather than just an analysis.
Sondra Jones, who works as a stylist at Hams, said Hamilton's motivation went a long way to help her achieve such goals. Jones married last year, and she continues to make progress in growing her customer base.
Hams will begin retailing hair and beauty supplies in the coming weeks, while companies such as Design Essentials will be welcomed to the store to put on symposiums that demonstrate products and styling techniques.
"My vision for the salon was for it to be more than just a place to get hair cuts," Hamilton said. "That's exactly what it's turning into. I wanted to make a difference in the community, and I believe we are positioning ourselves to do that."