Stephanie Mansour doesn't let handicap be impediment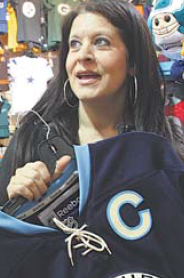 ---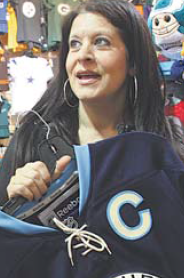 Photo
Stephanie Mansour, owner of Touchdown Gifts in Southern Park Mall, has a 95 percent hearing loss.
BOARDMAN
She may not always be able to hear the customers, but Stephanie Mansour has kept herself in business by listening to them.
Mansour owns Touchdown Gifts at Southern Park Mall. The business started at her mother's and aunt's business in New Castle, then took off from there.
"I was making gift baskets with Pittsburgh Steelers and Penn State University items, Mansour said. "One of my baskets ended up going to an employee at the Southern Park Mall."
The mall employee thought enough of the gift basket to contact Mansour about 15 years ago and ask her if she was interested in setting up a kiosk at the mall to sell her baskets, she said.
The kiosk started at 6-feet-by-6-feet and grew until the mall told her the kiosk could not get any bigger and she needed a storefront.
Touchdown Gifts moved into the store about nine years ago, Mansour said.
She started to diversify her product line after opening the mall kiosk, she said. Customers would ask for Cleveland Browns and Cleveland Indians items.
"Then people started asking for other teams. I didn't know anything about sports, so I would write them down and research them later," Mansour said.
Her goal was to begin carrying items if she received more than 10 requests for a specific team, she said.
"Then people started asking for specific items out of the gift baskets, so I split out the gift baskets and sold those items separately," Mansour said.
Now her store carries an eclectic mix of sportswear, memorabilia and other sports-related items. Mansour considers her store different from other stores that sell mostly clothing and headwear, including primarily sideline apparel.
"I have people from other stores send their customers to me," Mansour said.
Mansour has a 95-percent loss of hearing in each ear.
There occasionally are customers who are not patient enough when Mansour asks them to repeat something, she said.
"I can't do anything about those people," Mansour said.
Jane Charles, Mansour's aunt, said her niece is self-conscious about her hearing but never lets it hold her back.
"She has always been very driven and determined," Charles said.
Elaine Mansour, Stephanie's mother, said her daughter has worked hard to overcome her lack of hearing.
She learned to sign and read lips at an early age, Elaine said.
"She grew up with kids who thought she was deaf and dumb, but she just couldn't hear them," Elaine said.
"She went to a national conference for deaf people, and she served as an inspiration for deaf people all over the country," Elaine Mansour said.
This is what Stephanie Mansour wanted to do, so she "took the idea and ran with it," said her mother.
Stephanie Mansour started her career working for her mother and aunt, and now both help her at the store.
"The tables have turned," she said.