Lexi Cintron makes Christmas brighter for many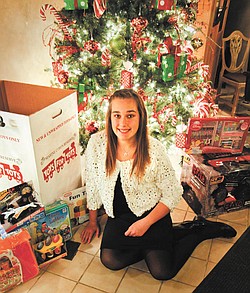 The Vindicator ( Youngstown)

Photo
Madelyn P. Hastings | The Vindicator Lexi Cintron is an Austintown Middle School seventh-grader who has been collecting items for Toys for Tots annually. This year's drive brought in 330 toys, bringing to about 2,940 the number of items she's collected since starting her project six years ago. Her goal is to collect 3,000 toys.
By Sean Barron
HOWLAND
Lexi Cintron remembers only the sketchiest details about her desire to see a Christmas tree with angel decorations erected in her front yard when she was very young.
Nevertheless, her mother, Lisa Cintron, thinks she can fill in a few gaps in her 12-year-old daughter's memory.
"The idea popped into her head, perhaps as a way to attract attention and encourage people to give," Lisa explained. "It was quite comical, but at the same time we knew it was something we wouldn't ignore either."
Whatever the reason, that act seems to have set the stage for how the Austintown Middle School seventh-grader tries to live her life: giving to those less fortunate.
Lexi's latest endeavor toward that end was her sixth annual Toys for Tots toy drive, which she kicked off Nov. 30 at Spalon Day Spa Inc., 5000 E. Market St., and continued through Dec. 15.
It wasn't long after Lexi launched the project that donations flowed into the salon her grandmother, Sara Morris, owns. Within a short time, a collection that included a variety of board games, a 60-piece art set, Matchbox cars, dolls and a radio-controlled Hummer vehicle started filling the hair and beauty salon, at which Lexi is a regular fixture.
The only items Lexi rejected were toy guns and other weapons, she noted.
When she was little, Lexi recalled, her parents took her to the Eastwood Mall in Niles before Christmas, where she removed an angel ornament from the Christmas tree and used it to buy a gift for someone less fortunate. That action morphed into her idea to collect gifts on behalf of Toys for Tots, explained Lexi, adding that she also enjoys taking piano and dance lessons and hopes to become a veterinarian because of her love for animals.
Of course, the two-week volunteer project was in keeping with Lexi's wish to bring a brighter Christmas to many youngsters and their families, but you might say it's also in keeping with one of her favorite holiday-related slogans: "Every child deserves a magical Christmas."
Last year, many fellow students in Lexi's sixth-grade class donated toys, she said with pride.
"I got about 100 toys last year from school, which was pretty cool," Lexi said, adding that one of her biggest goals is to collect 3,000 toys.
Lexi's efforts brought in 330 toys this year, bringing to about 2,940 the number of items she's collected since starting her project six years ago, Lisa noted. In addition, she said Moose Lodge 1012 of Cortland donated $618 in Lexi's name.
Over the past few years, some organizations have assisted directly, Morris noted. One of those was CheerTime Athletics, which offers workshops, clinics and classes to train cheerleaders for competitions, she explained.
After the drive, the items were taken to the Youngstown Air Reserve Station in Vienna, where the Salvation Army and other local agencies, organizations and churches, collected and distributed them to those in need, noted Lisa, a manager for Wholesale Fireworks in Hubbard.
The seventh-grader has received her share of praise for her generosity and unselfishness, but to her mother and grandmother, it's simply Lexi being Lexi.
"She's sweet, caring and giving," Lisa Cintron said. "She's instantly likable; you want to be her friend ... There's a very human side to her that exuberates and shows as soon as you meet her."
"She's just a super, super person who tugs at my heart," Morris said, fighting back tears. "She's a joy to be around."