Camps honored for 60th with dinner and party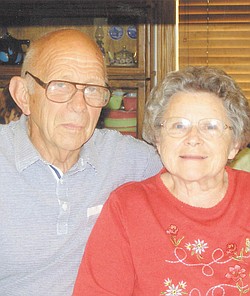 Photo
LEETONIA
Mr. and Mrs. Sam Camp of Leetonia celebrated their 60th wedding anniversary in June with a dinner party at the Roadhouse followed by a family gathering at the home of a daughter.
The former Helen Makar and Mr. Camp were married on June 19, 1952, in Columbiana.
Their children are Patti (Robert) Miller, Anita (Joe) Garzoni and Samuel R. Camp, all of Leetonia; Lynne (Terry) Malmsberry of Beloit; and Theresa (Michael) Stipetich of Hubbard. The family includes 10 grandchildren.
The couple owned and operated the Camp Dairy Farm for 30 years.
Mrs. Camp was an operator for Ohio Bell Telephone Co. and was a clerk at various retail stores.
Mr. Camp was a lineman and installer for Ohio Bell for 22 years. He enjoys restoring antique Ford cars and trucks and still helps his son on the farm.