Janik-Havaich nuptials are set for May 18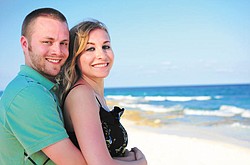 Photo
Cody Havaich and Jillian Janik
The engagement of Jillian Janik and Cody Havaich, both of Niles, is announced by their parents.
The bride-to-be is a daughter of Ed and Vickie Janik of Niles. The future groom is a son of Dale Havaich of Niles and Deborah DeMartini of Warren.
St. Stephen Church will be the setting for the 1:30 p.m. May 18 open wedding ceremony. Invitations will be extended for an evening reception at Ciminero's Banquet Center, Niles.
The bride-elect earned a bachelor's degree in accounting from Ohio University. She is an auditor at Julian & Grube in Howland.
The future groom received a bachelor's degree in industrial and systems engineering from Ohio State University. He is employed as a quality engineer for Energizer Battery in Asheboro, N.C.