DelSignore, Carbon date set for June 28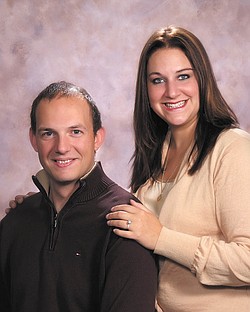 Photo
Samuel Carbon II and Tina DelSignore
BOARDMAN
Tina DelSignore of Boardman and Samuel Carbon II of Canfield have chosen June 28 as their wedding date.
The bride-to-be is the daughter of Gregory and Carrie DelSignore of Boardman. Parents of the future groom are Samuel and Mary Lou Carbon of Canfield.
Invitations will be extended for the 3 p.m. wedding ceremony in St. Charles Church and for the evening reception at The Georgetown.
The bride-elect received a bachelor's degree in secondary education and integrated language arts from Youngstown State University. She is attending Bread Loaf School of English at Middlebury College, which has included travel to University of Oxford, St. John's College and University of North Carolina at Asheville. She is language arts teacher at Cardinal Mooney High School.
The prospective groom received a bachelor's degree in exercise science from YSU and is self-employed in the exercise science field. He also is advertising manager at H&M Quilting and Embroidery Designs Inc., North Lima.