YSU women zap Zips, Brown adds milestones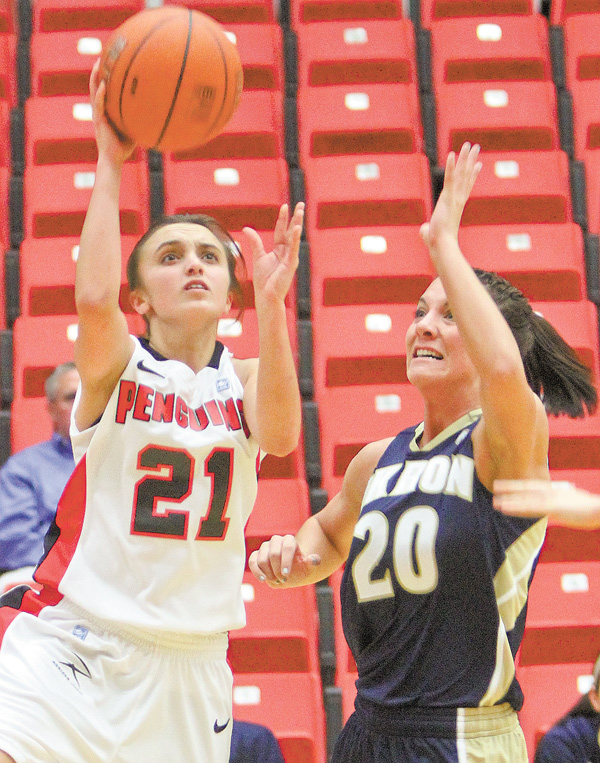 ---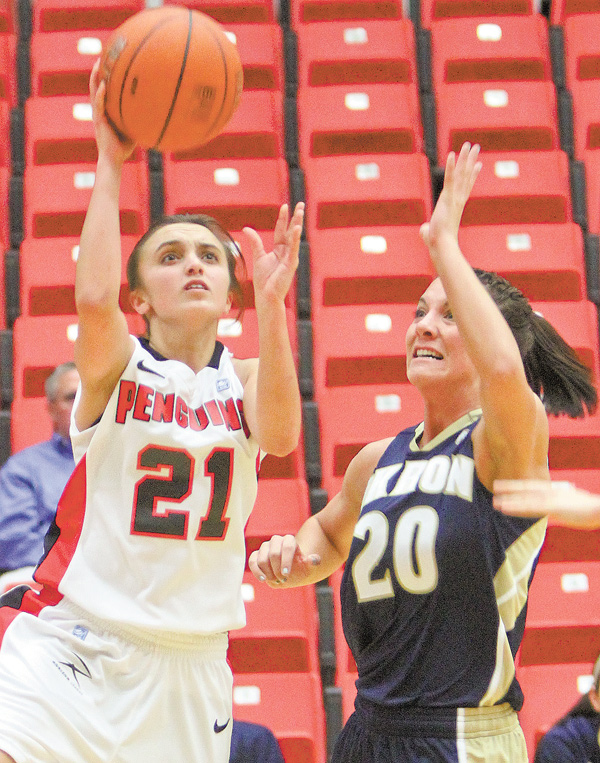 Photo
Youngstown State guard Liz Hornberger shoots past Akron's Taylor Ruper during Thursday's game at Beeghly Center. Hornberger scored seven points and the Penguins won 80-71.
By Joe Catullo Jr.
YOUNGSTOWN
Attempting to beat a possible snowstorm in Youngstown, senior Brandi Brown will catch a morning flight on Friday back to her hometown in Pomona, Calif., for the holidays.
"I'm just going to enjoy my family, go to the beach, hang out [and] eat some food, but not too much because we have practice coming up," she said laughing. "I'm going to be smart about what I do."
Along with a suitcase, Brown will bring home two other items she got as early Christmas presents against Akron on Thursday. She's bringing 1,000 career rebounds and 1,600 points with her — the third player in Horizon League history to do so. She is also the third player in YSU history with 1,000 rebounds.
"She's good," coach Bob Boldon said walking into the media room. "I just picked that up the other day in practice. Thought she could probably start for us."
Brown scored 25 points and collected 15 rebounds during the 80-71 victory. The Penguins (8-3) returned home after a 90-57 defeat against West Virginia on Sunday.
"We're excited that we got the win, and that's what we came in to do," freshman guard Shar'Rae Davis said. "The first thing that coach said to us was the first thing that people are going to ask us when we go home is, Did you win? And we didn't want to say no."
During Brown's postgame interview, Boldon overheard her say the defense played well against the Zips (8-4). He thought so too, until he saw the stat sheet read 49.1 percent from the field and 52.6 percent beyond the 3-point line.
"Then I thought maybe we didn't play as good of defense as I thought," Boldon said. "I did think we created some turnovers, and I thought we did a good job of disrupting the flow of their offense. We made them work for their shots."
The Zips committed 22 turnovers while the Penguins coughed up nine, but Akron kept the game close throughout. YSU led by as many as 12 in the first half, and then the Zips went on mini second-half scoring runs.
"Our main focus was to stick to our defensive principles," Brown said. "I think that our defensive effort was one of the best overall considering that Akron is probably the best offensive team. They run their sets the best out of anybody that we've played thus far."
Backing up Brown and her milestone performance was Davis with 17 points, four steals and three assists. Boldon said he's never seen a player who can score, pass and rebound the way Davis does.
"She has the potential to be one of the best point guards here, and I know there's been some really good ones back in the 90s," he said. "I think Brandi is such a wonderful influence on her, and her ability to be around Brandi and see her work ethic day after day after day is going to be very important for Shar'Rae's development."
The Penguins face Bucknell at Beeghly Center on Dec. 29, their first game after Christmas break.