New home for heroes: American Legion 472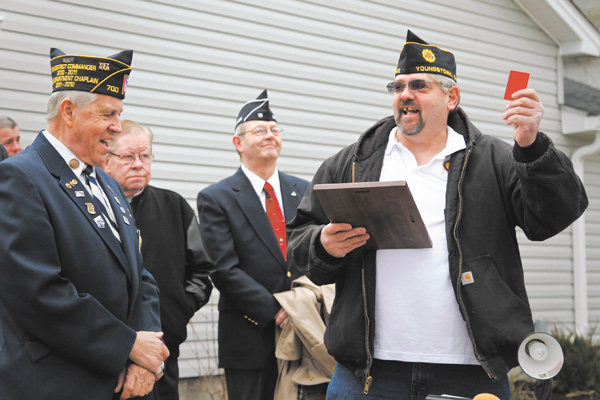 ---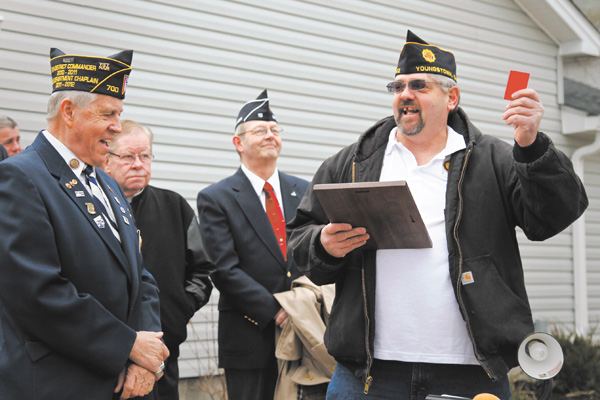 Photo
James Campbell, left, representative of the American Legion Department of Ohio, shares a laugh with Robert Raver, far right, commander of American Legion Post 472 in Youngstown, after Campbell presented the keys to Raver for the post's new $300,000 facility at 472 E. Indianola Ave.
SEE ALSO: Longtime ITAM post goes on auction block Jan. 8
By WILLIAM K. ALCORN
alcorn@vindy.com
YOUNGSTOWN
Altruistic community members turned American Legion Post 472's summer dream of raising $50,000 to $60,000 to expand its post home and make it handicapped-accessible into a $300,000 winter reality.
This is a grand occasion, Robert Raver, commander of Road to Remembrance Post 472, said Thursday as he accepted the keys to the new structure at 472 E. Indianola Ave. on the city's South Side.
He praised the selflessness and generosity of the community and the Core 6 group for coming together to help veterans in a way he said he would never have thought possible.
"It warms your heart," Raver said.
The new one-story post home, about 85 percent complete, has handicapped-accessible restrooms and various meeting rooms, a bedroom to provide short-term housing for homeless veterans, an office and outside boccie courts. It also will have a state-of-the art kitchen and finished landscaping when permits, inspections and weather permit.
"It feels good to say, 'Merry Christmas,' and really mean it," said Donny Murphy, a member of Core 6 and sales manager with Donnell Ford of Boardman.
A project such as this usually would take six or seven months. But, thanks to the tradesmen of the Western Reserve Building & Construction Trades Council and other community and business volunteers and donations, it essentially was completed in 70 days, Murphy said.
"It feels good to give back to the veterans who put their lives on the line for all of us. I can't thank everybody, but a lot of people busted their butts to get this done," he added.
Core 6 members, the driving force behind the project, are: Murphy; Sam Pitzulo, owner of Sam Pitzulo Homes of Canfield; John Morvay, owner of American Portfolio; Steve Bott, sales manager with Mark Thomas Ford in Cortland; Tom Paranzino of Bernard Daniels Lumber & Home Center in Canfield; Joe Reinthaler, owner of Cardinal Quick Lube; Andrea Murphy, a homemaker; and Jim Rach, a former business owner from Canfield.
"The new 2,500-square-foot facility has a lot of inviting things to bring new members to the legion," Raver said.
"We actively recruit members, and we offer paid memberships to active-duty military members, which entitles them and their families to benefits and support provided by the American Legion," he said.
"This is a great day for this post to embark on a new beginning," said James Campbell, representing the Department of Ohio American Legion, in presenting the keys to the new Post 472 home to Raver,
Campbell, a member of American Legion Howland Post 700, dedicated the new Post 427 home to preserving the American Legion principles of justice, freedom and democracy.
"It is unbelievable to think that people got together and did this for veterans. We fight every day to keep our membership. This will help," said Paul Robinson, a member of American Legion Post 301 in Austintown and American Legion 9th District 2nd vice commander.
Among the volunteer companies for the project was Altiere Home & Garden, which provided soil for the landscaping under the auspices of Anthony Billet Landscape in Boardman.
"I'm of the generation that didn't have to worry about getting drafted. This is a way to pay back the veterans who did serve," Bott said.