Longtime ITAM post goes on auction block Jan. 8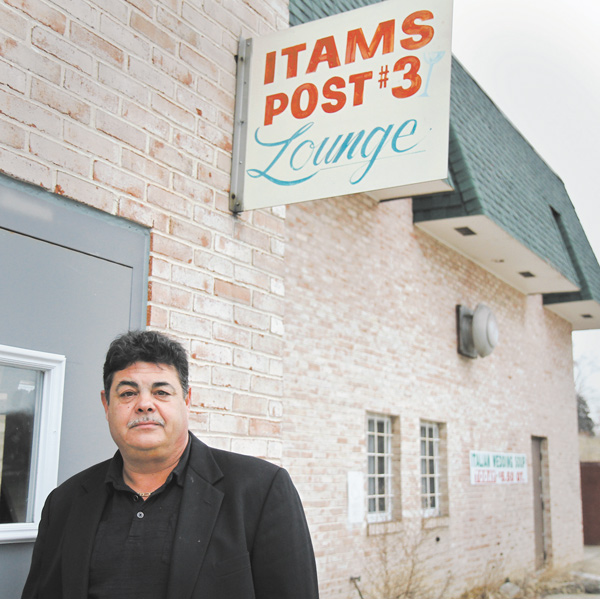 ---

Photo
Patrick Fusillo, the last commander of the now-defunct Italian American War Veterans Post 3, stands outside the building at 115 S. Meridian Road, Youngstown.
YOUNGSTOWN
The former home of a proud veterans organization and of many social events soon will be put up for auction in a sheriff's sale.
The Italian-American War Veterans Post 3 at 115 S. Meridian Road will be on the list for the 1:30 p.m. Jan. 8 sheriff's sale in the Mahoning County Courthouse basement.
The minimum bid for the 1976 vintage, 12,559-square-foot social hall, which occupies a 3.23-acre site, will be $160,080 — two-thirds of its $240,000 appraised value.
The sale will follow the buildup of some $418,319 in debt, including unpaid federal, state and real-estate taxes, over more than a decade.
"It breaks my heart," Patrick Fusillo of Youngstown, the last commander of the now-defunct post, said of the demise of the organization, which was founded soon after World War II.
The post was forced to close when its charter was revoked in August 2011 by the ITAM's national headquarters in Chicago for alleged "mismanagement" of the post, said Fusillo, a Marine veteran of the Vietnam War, who became post commander in September 2010.
"We, the people here in Youngstown, never gave up. It was the national that literally made the decision for us," Fusillo said.
Although thieves recently stripped the building of its copper pipe, Fusillo said he hopes someone will buy it and remodel it into a veterans organization serving veterans of all wars.
In its heyday during the 1970s and '80s, the post had more than 700 members and was the largest Italian-American War Veterans post in the nation, Fusillo recalled.
When it closed, it had fewer than 100 members, 75 percent of them in their 80s, he said.
"It's too bad," said Dr. Dominic Bitonte, 88, of Columbiana, a retired dentist and World War II and Korean War veteran.
"Ninety percent of the members were World War II veterans, and there aren't too many of them left," said Dr. Bitonte, who was a post member and its medical officer.
Fusillo said the post might have survived had more of an effort been made to recruit veterans of more recent wars as members.
Fusillo said the problems primarily were due to declining membership.
As membership dwindled, Fusillo said the post was faced with mounting labor costs for those it had to hire to staff hall events.
In recent years, the post's income has been derived from membership dues, its popular fundraising spaghetti dinners, and hall rentals for wedding receptions, class reunions, boxing matches and political functions.
Included in the post's debt is $196,341 in IRS liens dating back to 2001, including unpaid federal income tax that was to have been withheld from employees' pay and unemployment tax.
Also included are state liens for $4,242 in unpaid workers' compensation premiums and withholding and sales taxes.
Some $133,736 is owed for real-estate taxes, and $82,000 is owed for a mechanic's lien for unpaid renovations to the building in 2010 and $2,000 for the contractor's missing tools and supplies.
In a foreclosure judgment entry, Judge Lou A. D'Apolito of Mahoning County Common Pleas Court ordered that sale proceeds will first be used to pay off the real-estate tax debt, then the federal and state tax debts, and last, the mechanic's lien and tool-and-supply loss compensation.
"It's in deplorable condition," Commissioner Carol Rimedio-Righetti said of the former post building.
"Years passed. No one ever did complete renovations of that building. It needed work," said Righetti, a former city councilwoman, whose late parents were post members. She added that she thinks the building needs to be demolished.