Published: Wed, December 19, 2012 @ 12:00 a.m.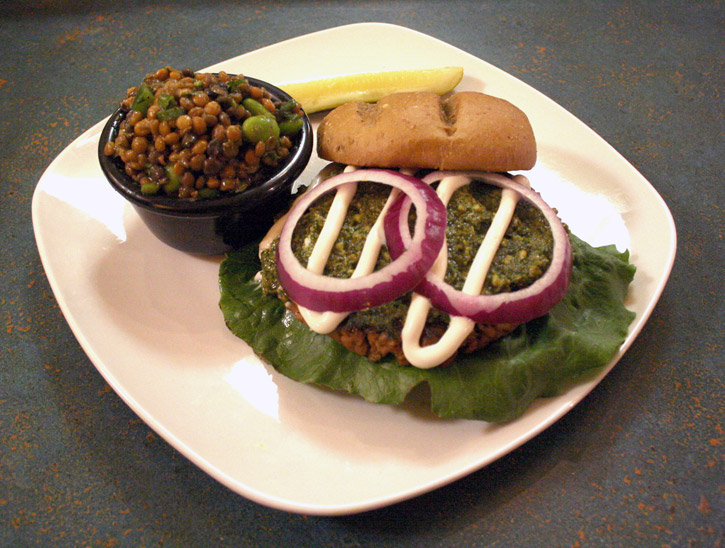 Photo
Flaming Ice Cube's vegan Pesto Burger served with a side of Edmame Salad.
When You Go...
Where:
Flaming Ice Cube
in Creekside Place
1449 Boardman-Canfield Rd
Boardman, OH
Phone: (330) 726-4766
Hours:
Mon - Sat 10am - 9pm
Website: www.flamingice.com
SIGNATURE DISHES
I found myself driving down Route 224 on a cold and rainy night toward my next Sig Dish review, white-knuckled and my mind racing.
It had nothing to do with the slick conditions of the road and everything to do with where I was about to eat for the first time.
You see, the Flaming Ice Cube is a vegan caf located in Boardman and featuring vegan food, smoothies and other made-from-scratch vegan baked goods.
In my head I imagined walking through the doors and immediately being identified for what I truly am — a carnivore. The other patrons would attack me in waves, and when I finally succumbed to their gluten-free assault, they would raise me above their heads and sacrifice me to the vegan god of meatless food.
But after the first 10 seconds in the door, not a single patron turned to acknowledge my entrance, and I was greeted by a welcoming smile of a waitress and the fragrant aromas from the candle-lined shelving in the attached shop. I breathed a sigh of relief, and my stomach gurgled, reminding me of why I was there.
My first dish to taste was their Flaming Ice Cube Salad ($7). A mix of fresh romaine lettuce and vegetables offered more than your normal salad. The textures and flavors of cucumber, green onions, green peppers, peas, corn, carrots and toasted almonds reminded me of my love for great salads that have more than just romaine lettuce, cucumbers and tomatoes. I appreciate a well-thought-out idea when you take a rather simple salad and make it something more. They also added a scoop of the chickenless salad that adds a vegan mayo and sweet flavor when mixed. It was a refreshing dish to start with.
Next out was the Pesto Burger, which is a vegan burger topped with homemade cilantro-walnut pesto, thick-cut onion and vegan mayo between a wheat bun. The burger itself is made with a product called TVP, or textured vegetable protein. It contains all the protein benefits of a meat burger minus the actual meat.
The pesto was delicious and offered a crunch here and there with a staggered chunk of walnut. The bun was almost sweet in flavor and not dry like your normal wheat breads.
All of that combined with the vegan mayo and bite of the onion was more than what I expected. There was flavor and my mouth was happy.
The side to the burger was a cup of lentil and edamame salad. It, too, had small chunks of red onions and chives creating a mild flavor mixed with the earthy values of the lentil and edamame bean. It was a great compliment to the burger.
The last dish to try was the Chick'n Dijonaise Flourentine Phyllo Pockets ($8), which is soy chicken, Dijon mustard and spinach packed and folded into a phyllo wrap. The phyllo pocket was soft and flaky, leaving shreds of thin dough falling like snow back to the plate with every bite. Inside was a tender mix of the ingredients that created a sense of comfort with each bite and a bit of tang from the mustard.
As an uneducated carnivore on vegan meals, I walked into the Flaming Ice Cube with an open mind. I didn't know what to expect of the food. After my meal I had a brief conversation with my server, who is a vegetarian — almost a vegan, about why no meat to eat? Her response was educated and obviously represented something she was passionate about.
Being vegan or vegetarian isn't always about the belief that all processed meat is a result of inhumane treatment of animals. It's more about being more health-conscious through what you eat. She said the majority of their customers are meat eaters but are looking for something with healthier ingredients every once and a while.
Being a foodie is about exploring foods of all kinds. If you have never been there, I suggest getting out to the Flaming Ice Cube and trying something new. Keep an open mind, and I think you, too, will be surprised at the attention spent on creating flavors, and you will forget the meat isn't real. I can assure you that after this Sig Dish I remain a carnivore — but I now better understand this lifestyle and also added a healthy alternative to my list.
ABOUT Signature Dishes
Ross Morrone is on the lookout for the biggest, hottest and tastiest dishes in the Valley. Email him at rossmorrone@gmail.com.