Ban fear fuels run on assault weapons across Mahoning Valley
RELATED: • Students return to Newtown classrooms
• Kasich plans to sign law allowing guns in Capitol garage
Newtown memorial balloon release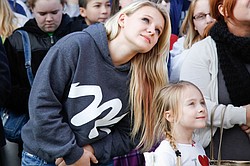 Gallery
YOUNGSTOWN
In the aftermath of the Newtown, Conn. massacre, the fear of a new ban on assault weapons has led to a run on guns at Mahoning Valley stores.
Retailers Dick's Sporting Goods suspended gun sales at all of its stores after last week's elementary school shooting that left 26 dead include 20 children.
Meanwhile, on Sunday, just two days after the shooting, Gander Mountain's advertising insert in newspapers across the country featured a semiautomatic rifle with a 30-round magazine similar to the one used by Adam Lanza, the Newtown shooter.
Wal-Mart, which sells guns from the Bushmaster line at about 1,700 stores nationwide, pulled the information page for the brand's Patrolman's Carbine M4A3 rifle from its website Monday, according to published reports.
In a statement, the company said it remains "dedicated to the safe and responsible sale of firearms in areas of the country where they are sold."
The shooting has spurred a nationwide — and local — debate that Mike Miller, representative of Miller Rod & Gun Inc. in Struthers, said boils down to whether a person believes the gun was responsible for the horrible act or if the person was responsible.
Violent video games have helped desensitize children to violence, he added.
"We used to carry guns into Struthers High School, put it in a locker, take it out after school, then leave school and go shoot squirrels," Miller said. "Nobody every thought about anyone shooting anyone."
Now, children play video games that provide extra lives for killing people and teach them how to use an AR-15 rifle by the time they're 11, he said.
Local gun dealers were dealing with significant crowds Tuesday throughout the Valley.
"We have other dealers sending people to us for guns because they're sold out," Miller said. "Specifically, we just had a guy come in while on his cellphone talking to a gun dealer in Florida, he told them we had five [guns] and asked [the dealer] if he wanted to buy them all."
Price at this point is not an issue; it's about availability, he said.
Byron Mastriana, owner of B&B Armory in Poland, said Tuesday was his first day open since the incident and he was busy all day.
Most of the customers were looking for assault weapons, he said.
Mastriana said he can't sell any type of assault weapons that aren't in stock because the manufacturers do not have them available.
The companies are simply not producing them, Miller said.
Since the shooting, there have been calls for stricter gun-control measures.
The White House said President Barack Obama is "actively supportive" of efforts on Capitol Hill to reinstate an assault- weapons ban.
White House spokesman Jay Carney says Obama would also support legislation to close the gun show "loophole," which allows people to buy guns from private dealers without background checks.
The president has pledged to address gun violence in the coming weeks.
Gun dealers have a reason to be concerned. Assault rifles at the B&B Armory shop make up 50 percent of sales, Mastriana said. Assault rifles start at about $500 while handgun prices start around $200, according to Cabela's website, one of the nation's largest outdoors stores.
The government tried the gun ban before with the Brady Bill and it was proven that it didn't work. The crime rate didn't go down, Miller said.
"You don't ban spoons because I've got a belly. They didn't ban knives after O.J. [Simpson]'s wife [was killed]," he said.
The National Rifle Association made its first public statements Tuesday after a self-imposed media blackout. In its statement, the organization said its members were, quoting, "shocked, saddened and heartbroken by the news of the horrific and senseless murders."
The group also said it wanted to give families time to mourn before making its first public statements. The organization pledged "to help to make sure this never happens again" and has scheduled a Friday news conference.
According to the United States Bureau of Alcohol, Tobacco, Firearms and Explosives' figures from March, there are 108,574 licensed weapons in Ohio. There are nearly 3.2 million registered weapons nationally.
In addition, the Ohio Attorney General's office reported that in the third quarter this year, 158 people received concealed-carry licenses in Columbiana County, 26 licenses were renewed, two were suspended and one was denied.
In Mahoning County, 119 licenses were issued, 58 renewed, four suspended, one revoked and one denied. Trumbull County had 235 people issued concealed-carry licenses, 71 renewed, and nine licenses were suspended.
Statewide, for the quarter, 13,949 concealed-carry licenses were issued, 3,447 renewed, 281 suspended, 547 revoked and 200 licenses denied.
The statewide figures represent an increase over previous quarters.
The state has seen a growing number of people getting concealed-carry permits over the past few years, according to information from the Buckeye Firearms Association.
Dick's Sporting Goods released a statement explaining its decision to suspend gun sales.
"We are extremely saddened by the unspeakable tragedy that occurred last week in Newtown, Conn., and our hearts go out to the victims and their families, and to the entire community," according to the company statement. "Out of respect for the victims and their families, during this time of national mourning we have removed all guns from sale and from display in our store nearest to Newtown and suspended the sale of modern sporting rifles in all of our stores chain-wide."
Dick's Sporting Goods did not provide any indication of how long gun sales will be suspended.
Cerberus Capital Management plans to sell its controlling stake in Freedom Group International, which makes Bushmaster rifles, one of the weapons that was used to kill elementary school children in Newtown. Cerberus representatives called Friday's tragedy a "watershed event" in the debate over gun control.
Investors also continued to bail out of other gunmakers as shares in publicly traded gun makers dropped for a third day.
Shares of Sturm, Ruger & Co. dropped $3.74, or 8.5 percent, to $40.26 in afternoon trading Tuesday. They're down more than 10 percent since Thursday, the day before the shooting. Shares of Smith & Wesson Holding Corp. fell 11 percent to $7.70, and are down 19.3 percent from their Thursday close.
The activity comes as the political winds appear to be shifting. Some Republicans now say they're willing to discuss the issue of gun control — along with mental health issues and violent video games.
Associated Press reports contributed to this story.