Round One goes to Rockets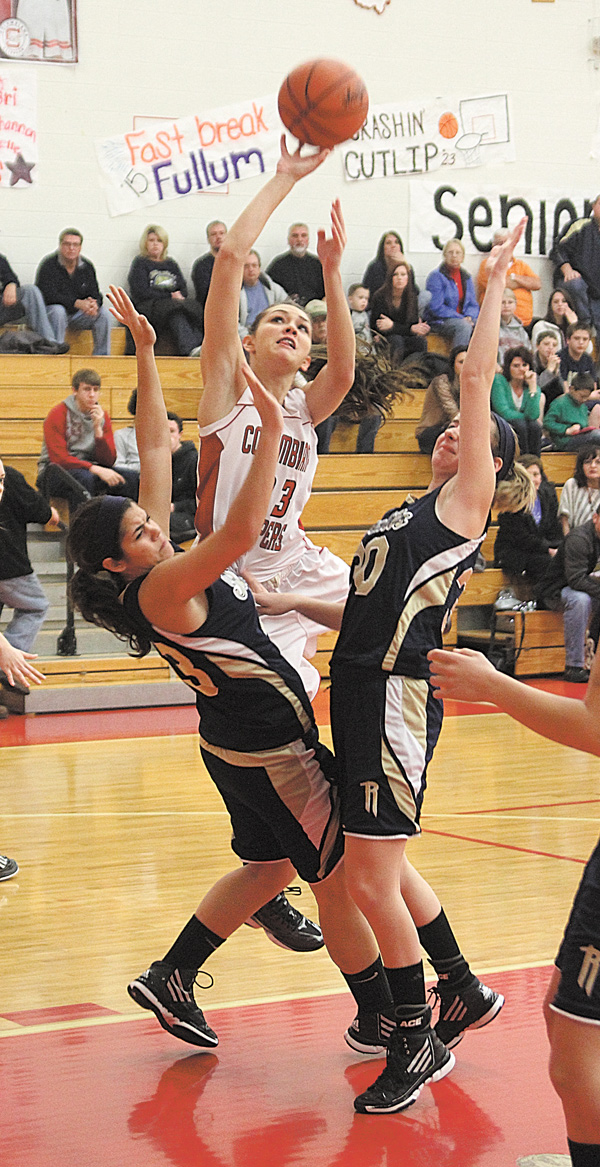 ---

Photo
Columbiana's Megan Cutlip (23) drives to the hoop between Lowellville defenders (30) Madison Opritza (30) and Katie Seidita (43) during their game Monday in Columbiana. The Rockets clipped the Clippers, 52-47.
Lowellville rallies from deficit, clips Columbiana
By Joe Scalzo
Columbiana
Lowellville High girls basketball coach Tony Matisi exited the locker room following Monday's 52-47 win over Columbiana looking like a man who had just eaten steak after two years' worth of Spam.
"What a great girls basketball game," he gushed. "Just to play a meaningful game, it's ... wow, so much fun.
"What a ... god dog, if it's going to be a battle with me and him [Clippers coach Ron Moschella] every time, I don't know, man."
That wasn't the only doubt that crept in Monday night. The Rockets played like duds in the first half against Columbiana's pressure, falling behind by 12 at halftime while shooting 3 of 18 from the field.
"Luckily we were only 12 points down," said Matisi. "We preached all week 'composure, composure,' but they took us right out of what we do.
"Last year's team, I would have loved it, running up and down the floor. This year? I don't have the ballhandlers."
Matisi preached the one-basket-at-a-time method — "I told them, 'We're not going to score 10 points on one bucket,' " he said — and the Rockets slowly chipped away, drawing within five by the end of the third quarter before taking the lead midway through the fourth.
By then, Clippers sophomore Baylie Mook had fouled out. Two minutes later, Clippers senior Khylea Fullum fouled out and junior Katie Seidita made two free throws to give Lowellville the lead for good, 44-42, with 2:46 left.
"I think it was a nice way to finally learn how to play together," said Seidita, who finished with 12 points, six rebounds and three steals. "We were just ready to come out there and kick some butt, honestly.
"We knew this was our game and we wanted to show we worked so hard for this."
Still, Columbiana was within two with about 30 seconds left but senior Kaye Solak made two free throws with 17.3 seconds left and sophomore Sami Chiclowe made a big steal and a free throw with nine seconds left to seal it.
"They've never been in this spot," Matisi said of his team. "This group of girls has been in the background, supporting. But this is their time.
"For three quarters, we didn't handle it [the moment] well at all. But they come around. They come around."
Solak led the Rockets (6-0, 4-0 Inter Tri-County League Tier Two) with 14 points and 15 rebounds. Senior Rachel Durbin picked up four fouls in the first half but played more than 13 minutes of the second half before fouling out. She finished with eight points and five rebounds. Freshman Courtney Conklin fouled out in the fourth but not before scoring 12 points and grabbing 11 rebounds as Lowellville held a 41-28 rebounding edge.
The game was Lowellville's first competitive league contest since February 2011. The Rockets won all 14 league games last year by an average of 36.8 points.
Most nights, the only thing they battled was boredom.
Then three things happened. Matisi graduated three 1,000-point scorers, Columbiana dropped down to Tier Two and the Clippers hired longtime Boardman coach Ron Moschella, who injected his brand of defense and intensity (not to mention his brand of manic hysteria) into a team that had won just six games last season.
This year's Clippers needed just six games to match that.
"He's got his ways," said Matisi, who used to play Moschella twice a year when he was Ursuline's coach a few decades ago. "But he's a great coach."
Alas, taking a year off didn't temper his personality after losses. Moschella left before talking to reporters and did not return a phone call seeking comment.
Fullum led the Clippers (6-1, 3-1) with 16 points and six rebounds and Megan Cutlip added 11 points and nine rebounds.
The rematch is Jan. 28 in Lowellville.