Salvation Army provides kids with Christmas gifts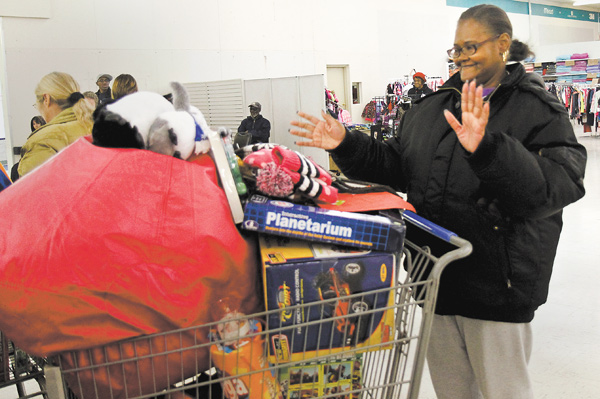 ---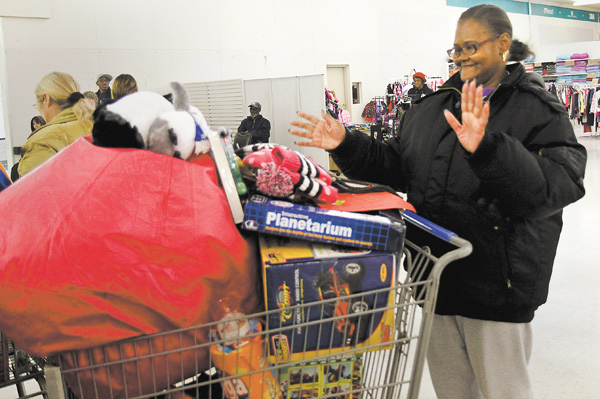 Photo
Vickie Adkins of Youngstown shops for Christmas gifts for her grandchildren, Kei'Sean, Nakaia and Tre'Sean McRae, at the Mahoning County Salvation Army gift distribution. About 2,000 children from 1,500 families are slated to receive Christmas gifts through the program, which continued today for preregistered families.
AUSTINTOWN
More than 2,000 girls and boys will jump up and down with glee when they find gifts under their Christmas trees this year that they might not have received without the Mahoning County Salvation Army's annual Christmas giveaway.
It's a big financial help at Christmas, said Carmen Morales of Youngstown, who shopped Monday for her four daughters at a warehouse in the Austintown Plaza stocked with a wide variety of toys, craft sets, books, puzzles and clothing donated to the Salvation Army.
Also, said Morales, a full-time employee of SBM Site Services, it's nice to be able to shop and tailor presents to her daughters' ages and interests.
Shelonda Glenn of Youngstown, who is out of work, also said being able to shop in the Salvation Army's Christmas gift store for her two daughters helps financially.
The Mahoning County Salvation Army has conducted a Christmas present giveaway for many years, but the shopping aspect was introduced this year by Maj. Valerie K. Kahn, co-coordinator of the Salvation Army's Mahoning County Area Services with her husband, Maj. Elijah O. Kahn.
Parents of more than 2,000 preregistered needy children from 1,500 families shopped for Christmas toys and clothes, donated through the Salvation Army Angel Tree Program.
Distribution for preregistered children was in a warehouse in the Austintown Plaza on Mahoning Avenue on Monday and today from 10 a.m. to 6:30 p.m. On Wednesday, the Salvation Army will provide toys at the same location to unregistered needy children on a first-come, first-served basis from 1 to 4 p.m. Parents must show proof of residency in Mahoning County and proof of guardianship for their children. Also, families, men, women and the elderly will receive Christmas food vouchers during the three-day event.
Gregg Ziegler of Austintown and other members of Smith Corners United Methodist Church were among the small army of volunteers who helped shoppers navigate through the warehouse and bag gifts. Ziegler said everybody seemed appreciative and to like the shopping aspect.
Some of the volunteers are school-oriented.
Kayleigh Choma of Austintown, a freshman at Eureka College in Illinois, said she has never before worked with the Salvation Army, but while a member of the Interact Club at Austintown Fitch High School, she participated in volunteer activities through the Rotary Club.
The Salvation Army toy program is a tradition for eighth-grade members of Poland Middle School's Junior Leadership Club. Some of the Poland students participating Monday were Bella Bury, Gabriella Hryb, Marissa Vardavas, Gina Cooper and Jeff Vrabel. Club advisers are teachers Pam Angelilli and Irene Consiglio.
"We want every child in Mahoning County to have a present to open at Christmas," said Maj. Elijah Kahn, who thanked all the businesses, churches, schools, stores and everyone who helped by sponsoring the Angel Tree Program and in other ways.
"The generosity and support from Mahoning Valley has been wonderful," he said.