YSU President Anderson to retire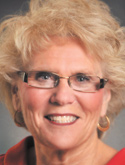 Photo
YOUNGSTOWN — Dr. Cynthia Anderson, president of Youngstown State University, will retire July 1, ending a four-decade-long career with the university.
In July 2010, she became the university's first woman president, first Youngstown native and first YSU graduate to assume the presidency in the university¹s 104-year history.
"It has been a distinct honor and privelege – and a dream come true – to serve my beloved alma mater as president over the past 2 1/2 years," Anderson said in announcing the move. She informed the president of the YSU Board of Trustees of her decision Wednesday.
"Together we have accomplished much during very challenging times. I am certain that the university will continue to flourish in the years to come," she added.
Dr. Anderson has served in numerous positions at the university, including professor and 15 years as vice president for student affairs.
"Dr. Anderson has been an incredible leader and tireless advocate for our students," said Sudershan Garg, chairman of the YSU Board of Trustees.
"Over the course of nearly four decades, her commitment to the university, its students, employees and community are unquestioned. Her leadership has made a positive difference, and her enthusiasm will be missed."
The board of trustees will begin an immediate search for Anderson's successor, Garg said in a news release from the university.
"For nearly 40 years, Youngstown State University has been my home, and you have all been my family," Anderson said in a memo to campus personnel. "It is because of you that YSU has been such a success, and for that, I thank all of you."
For details, see today's print edition of The Vindicator.