Lordstown vigil remembers Newtown victims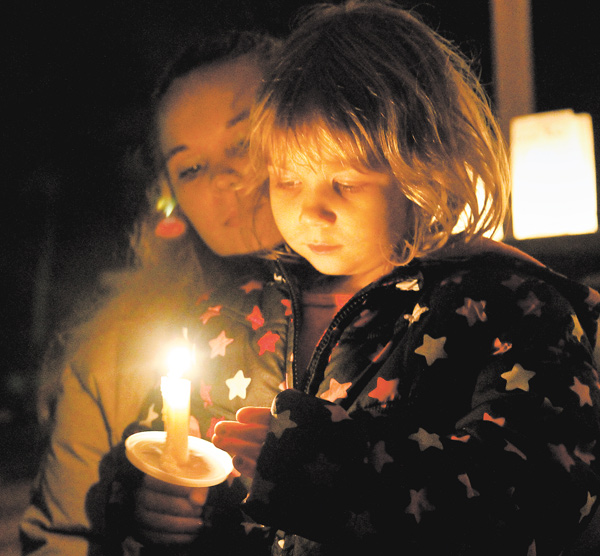 ---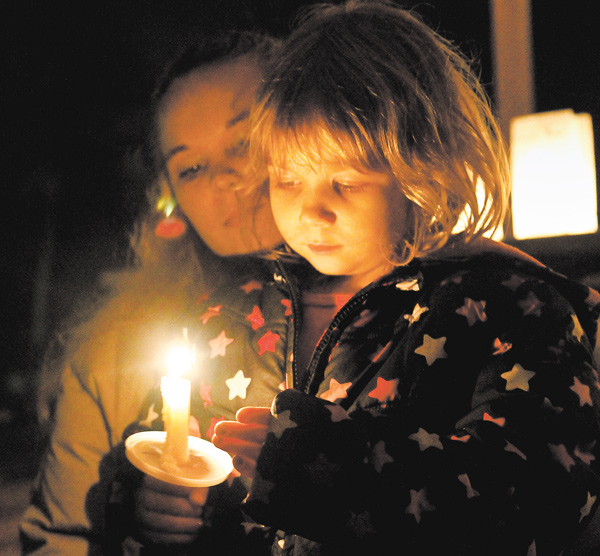 Photo
Cara Kowalczyk, left, and Michelle Peterson, 4, of Lordstown, reflect on the victims of Friday's Newtown, Conn., elementary school massacre. The two attended a vigil in Founder's Park in Lordstown on Sunday evening.
By Ed Runyan
LORDSTOWN
About 175 people turned out for a vigil Sunday night in the pavilion in Founder's Park in Lordstown to remember the 20 children and six adults shot to death Friday by a 20-year-old man in an elementary school in Newtown, Conn.
"These children were 20 families' little angels. They've gone up [to heaven] now. They're all right. But we have to pray for the families. They'll suffer horribly because of it," said Ben Davis of Leavittsburg.
Those in attendance lit candles as they listened to Davis, prayed with Pastor John Krause of New Covenant Baptist Church of Lordstown, and listed to a recording of the song "Held" by Natalie Grant and a live rendition of "Amazing Grace" on the bagpipes.
"We all have children and grandchildren, and this hits home," said Davis, who was asked to speak by the organizers of the vigil.
"It just breaks your heart to see this happen.
"We all want to do something and don't know what to do," he said, adding that the only real answer is to pray.
"Pray for them because God says he answers every prayer you lift up to him. If everybody here tonight goes home and prays for these precious folks, their hearts will feel it. The Holy Spirit will see that it gets there."
"There are no words of comfort that will bring understanding to these families," said Ruth Woods of Lordstown, who organized the vigil with her sister and cousin.
"Only you, Lord, can bring peace to these people who have suffered such great loss."
Woods, 24, said she doesn't have children of her own but works with children at Akron Children's Hospital.
"I can't imagine something like that happening to any child," she said, adding that she and her sister, Katherine Woods, and cousin, Anna Tibbs, organized the event "just to bring everybody together" and possibly make the people of Newtown aware that people are praying for them.
"I have two goddaughters I see every day that go to Lordstown schools," said Katherine Woods. "I can't imagine being one of those parents standing there waiting for their children and they don't come running to them."
Jessica Blank of Lordstown, who teaches at Newton Falls Elementary School, said her school was planning a drill Friday that would have dealt with the type of scenario that played out in Newtown, but the drill was canceled because of the Newtown events.
"I cried all the way home from school because you just don't know what can happen," she said.
"They're 5, and they don't understand," she said of her students. "We tell them if a bad guy comes into the school, we have to be prepared."