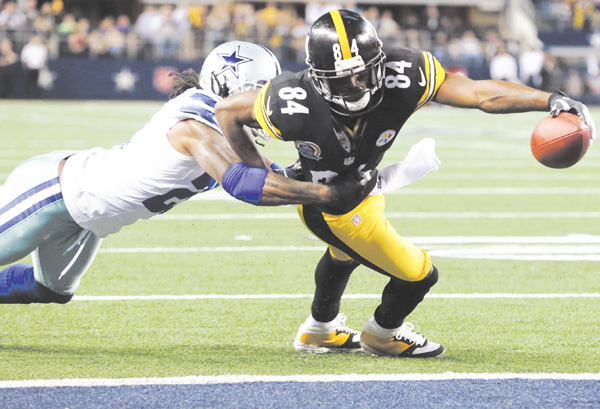 ---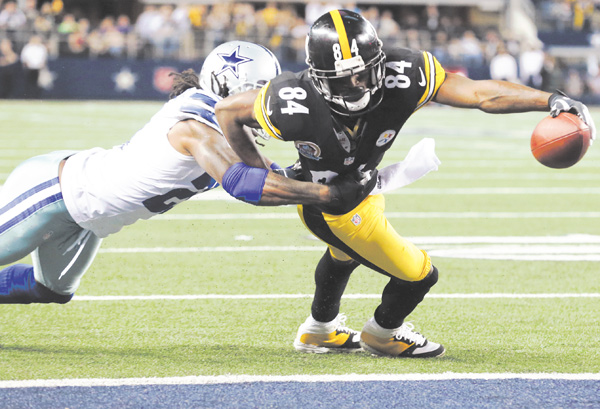 Photo
Pittsburgh Steelers wide receiver Antonio Brown (84) scores a touchdown as Dallas Cowboys cornerback Mike Jenkins (21) defends during the second half of an NFL football game on Sunday. The Cowboys outlasted the Steelers, 27-24, in overtime.
Associated Press
ARLINGTON, TEXAS
Brandon Carr found a way to silence thousands of Terrible Towel-waving Pittsburgh fans at Cowboys Stadium and send the Dallas crowd home happy.
The Cowboys cornerback intercepted a Ben Roethlisberger pass in overtime, returned it 36 yards to the 1, and Dan Bailey kicked a 21-yard field goal for a 27-24 win over the Steelers on Sunday.
Bailey's kick — 1:24 into OT — won a game for the second straight week since Dallas practice squad linebacker Jerry Brown was killed in a one-car accident that led to manslaughter charges against teammate Josh Brent.
The win pulled the Cowboys (8-6) into a three-way tie for first place in the NFC East with the Giants and Redskins with two games left in the season. Dallas has won five of its last six.
"Those are the plays you dream about in the backyard, making the game-winning interception or touchdown," Carr said.
Carr, who said he was anticipating Roethlisberger's throw to Mike Wallace because Steelers offensive coordinator Todd Haley was his coach in Kansas City, made a diving catch and jumped up along the Pittsburgh sideline.
Legions of black-and-gold clad fans on that side of the stadium watched as Carr ran it back and was stopped inches short of the goal line.
The winning kick came after Tony Romo, who broke the 25,000-yard passing milestone earlier in the game, took a knee to put Bailey in better position.
Bailey beat Cincinnati 20-19 last week with a 40-yarder as time expired, just a day after the accident that killed Brown.
The Steelers (7-7) lost for the fourth time in five games and trail AFC North rival Cincinnati by a game for the second wild card spot. They host the Bengals next week. Roethlisberger is 0-2 since returning from a three-game absence with shoulder and rib injuries.
"There won't be any quit from us, especially from me," Roethlisberger said. "This one is going to sting real bad. It will hopefully make me and make us better."
The defining play came from a Dallas defense playing without six injured starters, the latest being Carr's playing partner on the other side, first-round pick Morris Claiborne.
The rookie was sidelined after sustaining a concussion against the Bengals.
"I really can't explain it. It's something destined about this team," defensive end Jason Hatcher said. "You look back there and you don't know nobody back there behind you."
The score was tied 24-all in the final two minutes of regulation.
Pittsburgh quickly moved to its 46 after a completion by Roethlisberger and a roughing-the-passer penalty against DeMarcus Ware.
But Sean Lissemore and Anthony Spencer sacked Roethlisberger on consecutive plays to give the Cowboys the ball back.
"Everyone has seen Ben do that in the fourth quarter multiple times," Dallas defensive end Marcus Spears said.
"We knew we had to go back there and affect him in the pocket and at least try to get in his way. Fortunately, those turned into some sacks for us." Dez Bryant extended his touchdown streak to six games while playing with a broken left index finger, a 24-yard score that put Romo over 25,000 yards for his career and gave Dallas a 10-0 lead.
Roethlisberger pulled the Steelers even at 10 before halftime. He stepped away from pressure and used a couple of pump fakes to keep pass rushers away before finding Heath Miller wide open along the sideline on a 30-yard score.
"We still have a chance to right our wrongs here with two games left," Miller said. "We're just going to keep chipping away at it."