Players honor, remember Sandy Hook victims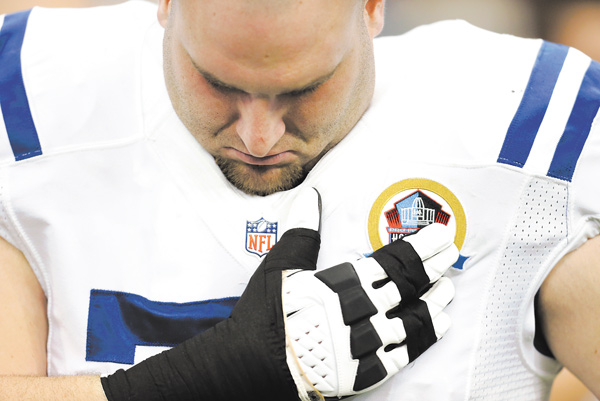 ---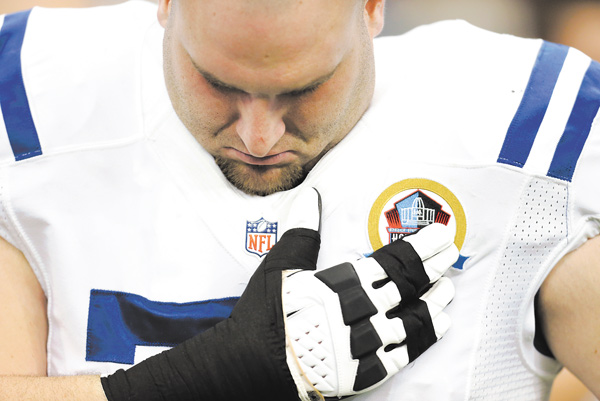 Photo
Indianapolis Colts guard Mike McGlynn, a graduate of Austintown Fitch High School, bows his head during a moment of silence for the victims of the Sandy Hook Elementary School shootings before a game against the Houston Texans on Sunday in Houston.
Associated Press
Two players who wear No. 26 joined hands with the coaches of the St. Louis Rams and Minnesota Vikings in tribute to the victims of the school massacre in Newtown, Conn.
The moment of silence before Sunday's game included coaches Jeff Fisher of St. Louis and Leslie Frazier of Minnesota, along with Rams running back Daryl Richardson and Vikings cornerback Antoine Winfield.
The players were selected because their number represents the number slain at Sandy Hook Elementary School on Friday.
Dozens of children wearing uniform jerseys held hands with players in a circle extending from the 30-yard lines at the Edward Jones Dome, centered on the Rams logo at midfield. Richardson, Winfield and the coaches formed an inner circle.
The New York Giants honored the victims by having S.H.E.S. (Sandy Hook Elementary School) written on their helmets for Sunday's game against the Atlanta Falcons.
Giants coach Tom Coughlin also had S.H.E.S. written on the hat he wore during the game.
Giants wide receiver Victor Cruz honored one of the Sandy Hook Elementary School shooting victims by wearing the name of 6-year-old Jack Pinto on his gloves and cleats Sunday when the Giants played the Falcons.
Cruz said he got in touch with Pinto's parents to offer his condolences after hearing Jack was a fan. Cruz also said the family told him they were considering burying Pinto in a Giants jersey with Cruz's No. 80.
Cruz had "Jack Pinto" and "My Hero" written on his cleats. He plans to drive to Newtown, Conn., this week to give his cleats and gloves to Pinto's family.
"As a parent you drop your kids off at school many times. It's hard to put into words what that community and those families must feel like. We obviously kept them in our prayers," Miami Dolphins coach Joe Philbin said after his team's home game against Jacksonville. Philbin's 21-year-old son Michael fell into a Wisconsin river and drowned in January.
In Houston, video screens went black as the moment was observed before the Texas hosted the Indianapolis Colts.
Texans defensive end J.J. Watt paid tribute by writing "Newtown, CT" on his gloves.
In Chicago, Green Bay wide receiver Donald Driver retweeted the names of the victims.
The Bills did continue their pregame habit of playing U2's "Sunday Bloody Sunday," which they've played before every home game this season. The song is in reference to British troops shooting and killing unarmed protesters in Derry, Northern Ireland in January 1972.
The Patriots see Newtown as part of their New England base, and had a direct connection with Friday's tragedy.
The Kraft family, which owns the Patriots, also owns a box company, Rand-Whitney, that has a factory less than one mile from Sandy Hook Elementary School.
Rand-Whitney's parking lot was used Friday as a meeting area for media members after the tragic shooting at the school, a Patriots official said this weekend.
More like this from vindy.com