Town mourns as authorities seek answers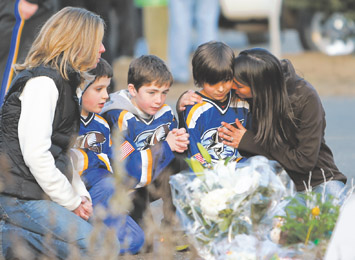 ---
Staff/wire report
NEWTOWN, Conn.
Investigators tried to figure out what led a bright but painfully awkward 20-year-old to slaughter 26 children and adults at a Connecticut elementary school, while townspeople sadly took down some of their Christmas decorations and struggled Saturday with how to go on.
The tragedy brought forth soul-searching and grief around the globe. Families as far away as Puerto Rico began to plan funerals for victims who still had their baby teeth, world leaders extended condolences, and vigils took place around the U.S.
April Caraway, executive director of the Trumbull County Mental Health and Recovery Board, offered advice to parents of local children who might experience emotional problems because of the shootings.
Fear, anger, despair, clinginess, difficulty sleeping, physical symptoms like stomach and headaches are all possible reactions to traumatic events, Caraway said.
"Avoid separating from your child, limit access to television and radio that will replay the events over and over," she said. "Encourage your child to talk about what they are thinking and feeling and expect crying, sadness, difficulty sleeping and a reduced appetite."
Any of these issues are normal for up to two weeks.
"If your child is afraid to leave your side, go to school, afraid to eat or sleep or talks about the events incessantly beyond a week or two, seek professional help for your child," Caraway said.
Amid the sorrow, stories of heroism emerged, including an account of the Sandy Hook Elementary School principal who lost her life lunging at the gunman, Adam Lanza, in an attempt to overpower him.
Police shed no light on what triggered the second-deadliest school shooting in U.S. history, though state police Lt. Paul Vance said investigators had found "very good evidence ... that our investigators will be able to use in painting the complete picture, the how and, more importantly, the why." He would not elaborate.
Another law enforcement official, speaking on condition of anonymity, said investigators have found no note or manifesto from Lanza of the sort they have come to expect after murderous rampages such as the Virginia Tech bloodbath in 2007 that left 33 people dead.
The mystery deepened as Newtown education officials said they had found no link between Lanza's mother and the school, contrary to news reports that said she was a teacher there. Investigators said they believe Adam Lanza attended Sandy Hook Elementary many years ago, but they had no explanation for why he went there on Friday.
Lanza shot and killed his mother, Nancy Lanza, at the home they shared, then drove to the school in her car with at least three of her guns, forced his way inside and opened fire in two classrooms, authorities said. Within minutes, he killed 20 children, six adults and himself.
On Saturday, Chief Medical Examiner Dr. H. Wayne Carver said all the victims at the school were shot with a rifle, at least some of them up close, and all of them were apparently shot more than once. All six adults killed at the school were women. Of the 20 children, eight were boys and 12 were girls. All the children were 6 or 7 years old.
Asked how many bullets were fired, Carver said, "I'm lucky if I can tell you how many I found."
Asked if the children suffered, he paused. "If so," he said, "not for very long."
Tim Francisco, a journalism professor from Youngstown State University, grew up in the community next to Newtown and said Newtown is an affluent and normally very safe community.
"It's generally a safe area with really low crime," Francisco said. "When you think of a small town in Connecticut, that's Newtown."
Francisco's sister still lives in the area and his niece was in lockdown at a nearby high school as well.
Even teachers at the other end of Connecticut were notified about being diligent in security.
Jenn Tress, formerly of Greenford south of Canfield, works at Putnam Middle School in Putnam, Conn., and said she received two emails from her principal.
One notified teachers about the shooting and one advised teachers not to talk about it with their students. They were given a statement to tell students if they asked. Putnam is about two hours from Newtown
"[One of the emails] said this gave us a chance to just talk about why we don't let strangers into our school," Tress said in a telephone interview on Friday.
The tragedy plunged Newtown into mourning and added the picturesque New England community of handsome colonial homes, red-brick sidewalks and 27,000 people to the grim map of towns where mass shootings in recent years have periodically reignited the national debate over gun control but led to little change.
Signs around town read, "Hug a teacher today," "Please pray for Newtown" and "Love will get us through."
"People in my neighborhood are feeling guilty about it being Christmas. They are taking down decorations," said Jeannie Pasacreta, a psychologist who was advising parents struggling with how to talk to their children.
The list of the dead was released Saturday, but in the tightly knit town, nearly everyone already seemed to know someone who died.
Among the dead: well-liked Principal Dawn Hochsprung, 47, who town officials say tried to stop the rampage; school psychologist Mary Sherlach, 56, who probably would have helped survivors grapple with the tragedy; a teacher thrilled to have been hired this year; and a 6-year-old girl who had just moved to Newtown from Canada.
"Next week is going to be horrible," said the town's legislative council chairman, Jeff Capeci, thinking about the string of funerals the town will face. "Horrible, and the week leading into Christmas."
School board chairwoman Debbie Leidlein spent Friday night meeting with parents who lost children and shivered as she recalled those conversations. "They were asking why. They can't wrap their minds around it. Why? What's going on?" she said. "And we just don't have any answers for them."
Authorities said Lanza had no criminal history, and it was not clear whether he had a job. Lanza was believed to have suffered from a personality disorder, said a law enforcement official who spoke on condition of anonymity.
Another law enforcement official, also speaking on condition of anonymity, said Lanza had been diagnosed with Asperger's, a mild form of autism often characterized by social awkwardness. People with the disorder are often highly intelligent. While they can become frustrated more easily, there is no evidence of a link between Asperger's and violent behavior, experts say.
The law enforcement officials insisted on anonymity because they were not authorized to discuss the unfolding investigation.
Acquaintances describe the former honor student as smart but odd and remote.
Olivia DeVivo, now a student at the University of Connecticut, recalled that Lanza always came to school toting a briefcase and wearing his shirt buttoned all the way up. "He was very different and very shy and didn't make an effort to interact with anybody" in his 10th-grade English class, she said.