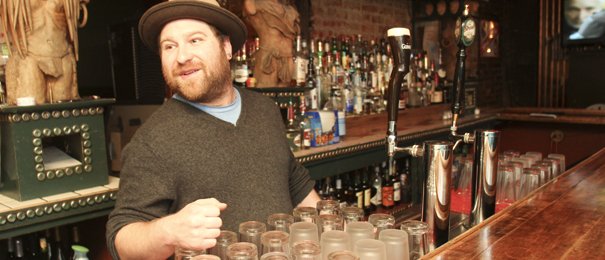 ---
By GUY D'ASTOLFO
YOUNGSTOWN
Pete Drivere remembers the first time he went to Cedar's Lounge.
"I walked in for the first time in 1982 to play with my band, The Infidels," he said. "I was 15 years old. As I made my way along the bar, I saw Timber Gilliland up on the stage with a full head of red hair. He was the lead singer for The 8 Balls, a band that I had only heard of, being a little kid from West Middlesex. We were going to open for them that night, and Timmy looked like a god to me, there with his guitar."
The Infidels would go on to become one of Youngstown's most popular bands in the '80s and '90s, with Cedar's as its home base. After that, Drivere would become the sound technician at the downtown club, a post he has filled since 2000.
It's just one vignette about a room filled with history and with rock music in its pores.
That history is about to enter a new chapter.
Last week, it was announced that the club will be forced to leave its location at 23 N. Hazel St. downtown, where it has been since it opened in 1975. The new owner of the building housing Cedar's, The Gatta Co. of Niles, intends to renovate the structure and turn the first floor into a restaurant and wine bar, with offices and apartments on the now-empty upper floors. The timetable calls for the restaurant to open in the spring.
The news was a shock to the bar's many longtime regulars, who saw it as an unwelcome — and perhaps unforeseen — byproduct of downtown's renaissance.
Mara Simon is the daughter of Tom Simon, who opened Cedar's and ran it until 2008. She owns the club now and operates it with Billy Danielson.
She doesn't know the date when the bar will have to leave.
But she already has begun looking for a new location where the bar will reopen.
A bastion of original music, Cedar's has long been a mainstay of the downtown scene, a musical oasis with an artistic spirit. For much of the '90s and early 2000s, when downtown was run-down and depressed, it was one of the only places open at night.
But it's still just a room, and after Simon finds a new one, she intends to reconvene the bands and patrons that have given Cedar's its unique flavor.
The bar has a solid reputation for bringing in rising acts that are on tour, and expects to have no trouble continuing that tradition in its new location.
"We run on thriftiness, and articulate thinking and taste," said Danielson. "We're good at it."
Drivere called it a beacon of culture for music lovers. "It's a destination and a point of reference held dear by generations of musicians, artists, punk rockers and college kids," he said.
Jeff Hall is one of those people. The Youngstowner has been a regular since Day One, and his institutional knowledge of the place makes him an unofficial historian of sorts.
"It's my home away from home," he said. "It means a lot to me."
A union stagehand, Hall also played in a number of bands over the years, most recently Liquor Box. When asked, he quickly reels off a list of national acts and noteworthy bands — and even their members — who have played the club in the past three decades.
"Tommy [Simon] started having bands there in 1981," said Hall. "Before going to the [now defunct] Tomorrow Club, we would stop at Cedar's for drinks. Then after the show, we'd head back to Cedar's."
Although he's seen his share of fights in the bar, the like-minded vibe among patrons always has been its overarching quality, even in its earliest days.
"If you went there, nobody gave you grief," said Hall. "As long as you were there to be cool and into the music, you could walk in there almost any time and find a decent conversation.
"Most of my friends now are people I met from Cedar's over the years. At times there were fights, and we'd have to expel the invaders. But it was a refuge. Even now I hear girls say to me that Cedar's was the only bar where they never felt funny going to by themselves, because they knew they weren't going to get hassled. It was not your standard meat market."
Cedar's has been ground zero for plenty of local bands who became regionally famous. Some names include Bangorillas, Boogieman Smash, Figure Ground, The Toll, Walking Clampets and Slackjaw.
More recent years have seen bands such as Gil Mantera's Party Dream and The Zou pack the place on a regular basis.
Richie Bernacki played Cedar's a handful of times with the Party Dream during the band's peak four or five years ago, and many other times with his prior band, Favorite Action hero.
Cedar's would be packed to the limit for GMPD, with about 400 fans crammed in the sweaty room.
Bernacki said the club was where his earliest love of rock was nurtured. "I reminisce about my young days, sneaking in when I was 17 because I had to see the bands — The Februarys, Boogieman Smash, Figure Ground," he said. "I needed the music."
Khaled Tabbara of The Zou said his history with Cedar's precedes his birth.
"My father grew up in Beirut, Lebanon, and knew Mara Simon's family," he said. "I remember being a small kid of maybe 8 or 9 and playing the Moon Patrol arcade game they had in there."
Cedar's was always a magical place for Tabbara.
"Before I ever even played music I remember trying to sneak in to see bands like the Johnsons, and Jeff Hall would be at the door scaring me out of even thinking about trying to sneak a sip of beer," he said.
Tabbara said the first show he ever played in a music venue was at Cedar's. "We called ourselves The Sons of Zou, and we were quite horrible," he said.
But the club gave Tabbara a chance, and he made the most of it.
"When we were just starting out and didn't have any experience, no other venue would let us play," he said. "The scene was dominated by metal acts, and we were kind of wierdo art rock.
"We convinced Cedar's that if we threw a music festival that had a bunch of bands from all over the area — none of which had a draw — we could fill the venue for a night. So, we organized the first Nouveau Rock Music Festival and brought bands like Third Class and Posture Coach. Together, I think we gave birth to a new scene that was completely rooted around Cedar's. Like many bands before us, we found a home for our art and Cedar's made it possible."
Tabbara has played hundreds of shows since then, but has played on Cedar's stage more than on any other.
His band was playing the club in March when the leader of the opening act, Matt Smith of Marbles for Eyes, collapsed and died of congenital heart failure just before The Zou was to go on stage.
"We carried him out and called the ambulance, but it was too late," said Tabbara. "Every time I have been at Cedar's since I am reminded of his spirit and to live my life to the fullest."
Tabarra tried to explain the club's importance to artists.
"It is a crossroads for creative types," he said. "There are always sculptors, painters, dancers, musicians, writers, film-nerds and theater-folk sharing a drink with friends or exchanging ideas."
It's been a place of milestones in his personal life, as well.
"I've had family reunions and theater cast-parties there, fallen in love and been dumped there," he said "Shot videos, written songs, released albums, performed in drag, danced, watched some of the best shows I've ever seen there, and even punched an audience member in the face from the stage there. We've had people propose to their future wives at Zou shows at Cedar's. I hope it reopens in a new location so we can continue making new memories."
More like this from vindy.com