Moores surprised with dinner party by family Dec. 1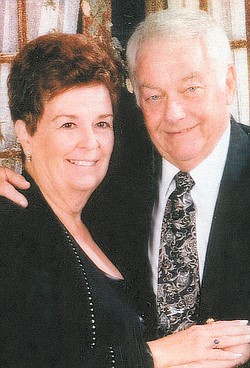 Photo
HUBBARD
A surprise dinner party on Dec. 1 at The Gentry honored Gary and Myrtlann Moore of Hubbard on the occasion of their 50th wedding anniversary.
It was hosted by their family, including two daughters, Lori Weaver and Tina Moore; Mrs. Moore's brother, Richard, and her sister, Donna, both of Florida. Sisters, Dianne Buser of Girard and Mary Lou Duff of Cortland, and friends Byron and Schicketha Smith of Warren, also hosted the dinner.
Mr. Moore retired from Norfolk-Southern Railroad in May 2011 after almost 44 years of service.
Mrs. Moore retired from Delphi Packard Electric in January 1999 with almost 32 years of service.
They were married Dec. 1, 1962, at Evangel Baptist Church in Boardman.
Mr. Moore's mother, who is 95, and his aunt, Nellie Beach, who is 104 years old, attended.