HAPPY 90TH BIRTHDAY | Cyril M. Deley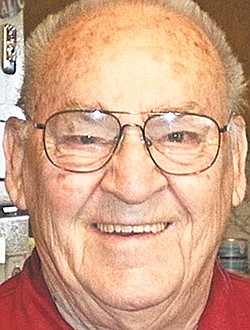 Photo
Residence: Youngstown.
Date of birth: Dec. 23, 1922.
Place of birth: Youngstown.
Parents: Andrew and Veronica (Stana) Deley.
Siblings: Andrew, Joseph, Helen, Peter, Matilda and Edward Deley; and Elizabeth Thomas, deceased.
Spouse: Margaret Chismar, whom he married April 24, 1948, at Sts. Cyril and Methodius Church, is deceased.
Children: Cyril Deley Jr. of New Castle, Pa.; Edward Deley and Laura (Tom) Brown, all of Youngstown; Veronica Deley of Salem; Andrea (Larry) Saluga of Canfield; and Lorraine (Dave) Bowman of North Jackson.
Grandchildren: Three.
Education: 1942 graduate of Woodrow Wilson High School.
Employment: Worked for Youngstown Fire Department from 1952 to 1981 and retired as a lieutenant.
Memberships: St. Christine Church, Local 312 Firefighters Union, Disabled American Veterans, Jednota, Police and Fire Retirees of Ohio and P.T. Boaters Inc. and Golden Hearts Club of Military Order of Purple Heart.
Military service: He is a U.S. Navy veteran, serving as machinist mate second class during World War II. He received the Purple Heart and six battle stars for combat in the southwest Pacific.
Additional information: The family celebrated at home.