West-Stavola wedding set for March 17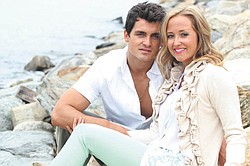 Photo
BRANDON STAVOLA AND STEFANIE WEST
Meri West of Hilton Head, S.C., formerly of Canfield and Michael West of North Lima are announcing the engagement of their daughter, Stefanie West of Fairfield, Conn., formerly of Canfield and Hilton Head, and Brandon Stavola, also of Fairfield.
Parents of the groom are Kathy Fox of Bethany, Conn., and Michael Stavola of Easton, Conn.
A sunset ceremony is set for 5 p.m. March 17 on the beach at The Westin Hilton Head Island Resort and Spa, Hilton Head, and a reception will follow at Oceanfront Pavilion at the resort. Invitations will be extended for both.
The bride-elect earned a bachelor's degree in corporate communications at the College of Charleston. She is senior vice president of Beyond Organic in West Palm Beach, Fla.
The prospective groom attended Rutgers College and is employed as an appraiser at Milberry Street Appraisals, Fairfield.