Ashleigh Santillo, Mr. Young to wed in January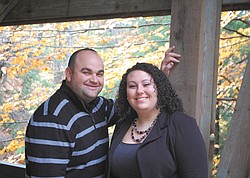 Photo
JOHN L. YOUNG AND ASHLEIGH M. SANTILLO
BOARDMAN
Ashleigh Marie Santillo and John Laurin Young, both of Boardman, are announcing their engagement.
The bride-elect is the daughter of Amy and Larry Santillo of Ellwood City, Pa. John and Marguerite Young of Poland are parents of the future groom.
St. Columba Cathedral, Youngstown, will be the setting for the 2 p.m. Jan. 5 open wedding ceremony. Invitations will be extended for an evening reception at Antone's Banquet Center, Boardman.
The couple received bachelor's degrees from Youngstown State University, where they both work.
The future bride's degree is in education. The prospective groom's degree is in business administration and graphic design.