YSU frat shooter will spend life in prison
Jamelle Jackson Sentencing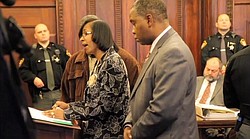 Video
Jamail Johnson's mother speaks during sentencing
Jamelle Jackson and Mark Jones Sentencing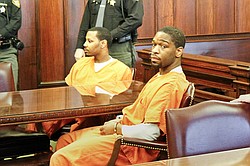 Gallery
By JOHN W. GOODWIN JR.
jgoodwin@vindy.com
YOUNGSTOWN
A nine-decade sentence was handed to the second shooter in an off-campus party near Youngstown State University, where one man was killed and 10 others were wounded last year.
Sentencing followed strong words from the murder victim's family.
Jamelle Jackson, 20, of West Boston Avenue; Mark Jones, 26, of South Meridian Road; and Demetrius Wright, 22, of West Avondale Avenue, appeared for sentencing Thursday before Judge John M. Durkin of Mahoning County Common Pleas Court. The charges related to the murder of Jamail Johnson and injuring of 10 other people at the off-campus party.
Jackson will spend the next 90 years to life in prison.
Jones will spend the next 10 years behind bars and Wright, who faced less serious charges, was sentenced to three years of probation.
They sat quietly through impassioned victim-impact statements from Jamail Johnson's mother, Shirlene Hill, and shooting victim Shavai Owens. And, they received a lesson on shame and empathy from Jamail's aunt, Lynn Johnson.
Lynn Johnson reminded the three that blacks were used in the capture and delivery of other blacks to slave ships to be transported to the United States. She said the black-on-black atrocities continue with young black males killing one another without empathy or sympathy.
"You guys disappoint me so much ... This is shameful. I am ashamed," she said. "I feel bad for you that you can sit there and smile because there is an emptiness inside of you."
Some of Lynn Johnson's words directed at the Jones family elicited a response from Mark Jones' father, causing bailiffs to remove the man from the courtroom.
Lynn Johnson also played a 20-second recording of Jamail Johnson and displayed a bloody picture of shooting victim Shavai Owens as an example of how the shooting has affected the lives of so many.
Shirlene Hill told the court she often has wished the entire ordeal was a dream. But it is a reality, she said, in which she wants her son's killers punished to the fullest extent.
"The reality is I will never wake up and have my son," she said. "I miss his smile. He had a beautiful smile ... He was a very special rock in my life. I can no longer see his smile or see his face."
Hill said Jackson's family has spoken words of comfort to her and she realizes that family also is in pain.
"It hurts me so much to see two families in so much pain. We should not be here. None of us should be here today," she said. "Your senseless act has cost me many sleepless nights and gut-wrenching pain, the kind that never stops and never goes away... You robbed me of my son, my legacy... You had no right."
Hill noted that she saw no remorse in any of the men as she asked the court for the stiffest sentences.
"This is my request. I would like Jamelle Jackson, Mark Jones and Demetrius Wright to receive the maximum sentences that are permissible by law," she said.
Judge Durkin noted Jackson's lack of remorse before handing down the 90-year-to-life sentence. Jackson made only one comment before sentencing — a denial of his part in the crime and the testimony of his codefendant Braylon Rogers naming him as a shooter.
"Everybody got their minds made up on what Mr. Rogers said I did, but I never one time fired a gun into that house, never one time even aimed a gun at that house," he said.
Following that statement, Judge Durkin sentenced him to the 90-year term on the murder charge and 10 counts of felonious assault.
Wright refused to make any statement before his sentencing on carrying concealed weapons and tampering with evidence.
Jones, who previously pleaded guilty to involuntary manslaughter and 10 counts of felonious assault in a plea deal with prosecutors, did apologize and offer condolences to the victim's family.
"I am sorry for what happened, and I want to give my condolences to the family," he quickly said just prior to sentencing.
Shavai Owens, who was shot in the head during the attack and hospitalized for months, said people see her now and think she has completely healed, but the incident has left both physical and emotional scars. She asked the judge to take away the freedom of the three men — just as they took away the freedom of their victims.
"He had a choice that night, and he chose to take away. His choice was to take away from so many other people; you [judge] should take away his [freedom]," she said.