Keep Sebring court open, supporters urge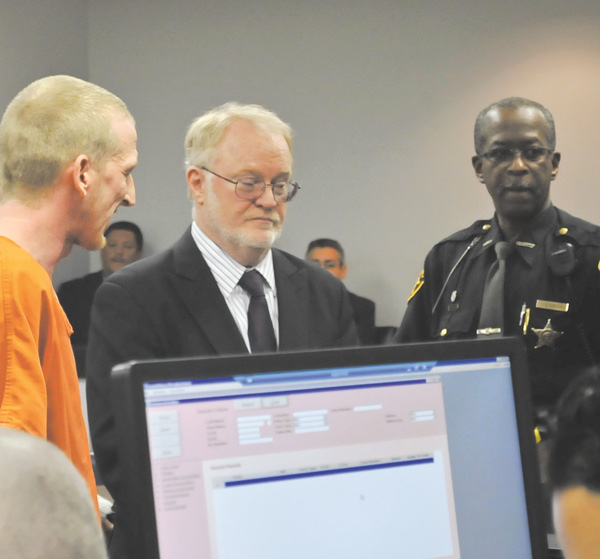 ---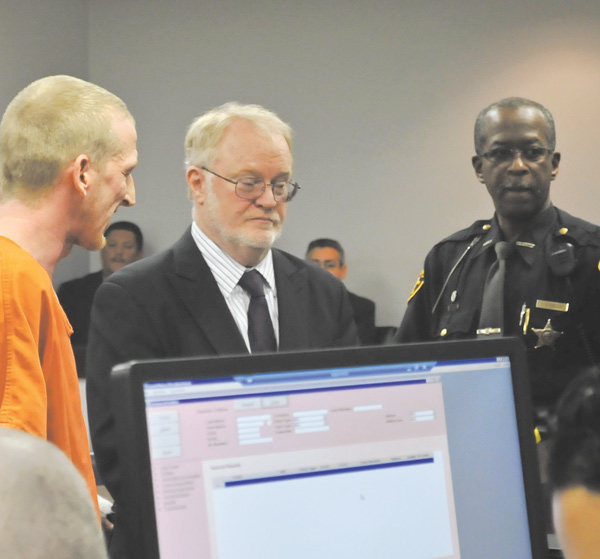 Photo
Daniel R. Oldfield, 27, of Salem, left, who is charged with felonious assault with a revolver, makes his initial appearance in Sebring court Thursday with his lawyer, Jeffrey Jakmides of Alliance, as Edward Mitchell, a Mahoning County deputy sheriff , provides security.
SEBRING
Mahoning County Area Court No. 3 has a small docket and is 30 miles from Youngstown, but local officials want to make sure Sebring's court stays open in any potential county-wide lower court consolidation.
Although it handled fewer than 3,000 cases last year, the court serves a population of 20,048 in a large geographical area. The court's service area consists of Smith, Goshen, Green, Berlin and Ellsworth townships, the villages of Sebring and Beloit, and the Mahoning County portions of Salem and Washingtonville.
Goshen and Smith townships and Sebring recently adopted resolutions strongly objecting to elimination of a local court presence in western Mahoning County.
On Thursday, local officials spoke of the need to preserve the local court as they attended the annual holiday open house for court personnel and their families and community leaders.
Atty. Jeffrey Jakmides of Alliance, a criminal defense lawyer who has been coming to Sebring court for 30 years, said it would be inconvenient for area residents, especially those with suspended driver's licenses, to have to arrange transportation to courts in Canfield or the Youngstown area.
"They're going to drive in violation of the law because they're going to be afraid warrants are going to be issued for their arrest" if they have to go to court in Canfield or the Youngstown area, he predicted.
Jakmides also said it would be inconvenient, time-consuming and costly for officers in small, Sebring-area police departments to make such a trip. "It would be much more convenient for those police officers to participate in these cases and meet with the prosecutors here than it would be for them to travel somewhere else," he observed.
"The community's going to be safer, and there is going to be better law enforcement if we have a local court here," he said.
"To go anywhere other than in this immediate area, where they can get to conveniently, means a very large hardship, not only on the population, but also on the police department," said Michael Pinkerton, Sebring mayor. "It's critical that there's representation at the court level in the western side of the county."
The court's part-time judge, Diane Vettori, who has been based here for the past 10 years, was re-elected without opposition in November to a six-year term.
"I would find it difficult for a victim in a domestic [violence] case to have to go to downtown Youngstown three, four or five times," from the Sebring area for court appearances, the judge said. "It's truly an access-to-justice issue."
In a study prepared for the county bar association, the National Center for State Courts recommended consolidation of other lower courts in the county but called for retention of Sebring court, saying it provides "vital and convenient government services."
"Basic geography" makes it important to keep a court in western Mahoning County to avoid long trips to other courts, no matter what type of court consolidation might occur in the rest of the county, said Nicholas Modarelli, chief assistant county prosecutor.
Jack Ausnehmer is the assistant county prosecutor assigned to Sebring court on a part-time basis. The court occupies rented quarters at 605 E. Ohio Ave., Sebring.
The Sebring court is one of four area courts in Mahoning County, which serve as trial courts for traffic and low-level civil and criminal cases. They also are initial-appearance courts for people charged with serious crimes.
The other area courts are in Canfield, Austintown and Boardman, and they serve larger populations and have larger caseloads.
Sebring's caseload fell sharply from 3,919 in 2010 to 2,946 in 2011; and Sebring accounted for only about 10.5 percent of the four courts' combined caseload in 2011.
Judge Vettori attributed the drop in part to a decline in the number of civil lawsuits due to local economic conditions. "There's no money out there," she observed.
The four courts are served by the county clerk of courts' office, which operates a satellite auto-title issuance office at the Sebring court. The Sebring court title office also is a major convenience for local residents, eliminating the need for them to travel to Youngstown, the judge said.
Besides the four area courts, Mahoning County's lower courts also include municipal courts in Youngstown, Campbell and Struthers. All of Mahoning County's lower courts have a single part-time judge, except Youngstown's, which has two full-time judges.
The Ohio Legislature voted recently to abolish the third Youngstown municipal judgeship.