Poland bands play holiday favorites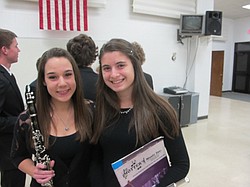 Photo
Neighbors | Natalie Scott.Zoey Summer (left) and Theodora Constantie were excited to perform for the audience at the Poland Seminary High School band's concert Nov. 28.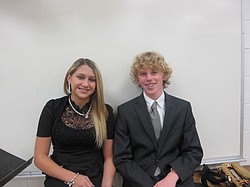 Photo
Neighbors | Natalie Scott.Nicole Phillips (left) and Shane McCreery dressed up to play at the Poland Seminary High School band's fall concert Nov. 28.
By NATALIE SCOTT
Poland Seminary High School concert, symphonic, and wind ensembles performed their fall concert Nov. 28 in the high school auditorium, featuring classic holiday favorites, like Feliz Navidad and A Gleeful Christmas, which took on the flare from the popular show "Glee" to give new life to songs like Merry Christmas, Darling, Jingle Bells, Baby, It's Cold Outside, and Angels We Have Heard on High.
However, the bands also performed a few pieces that were not holiday-themed, like Dmitri Shostakovich's Symphony No. 5: Finale, Op. 47.
"We wanted to do something different for our fall concert," said Nick Olesko, one of the band directors at PSHS. "We wanted to play a few holiday classics, but we didn't just want it to be Christmas music."
In the three branches of the Poland band, there are almost 20 members who also participate in the Youngstown Symphony Orchestra, the Stambaugh Youth Concert Band, and District V Honors Band.
"The kids work so hard all year. We have been working on these songs since October, when marching band ended," Olesko said.
The Poland Seminary High School bands perform year-round under the guidance of directors Olesko and Jeff Hvizdos, with the help of percussion instructor Kevin Downs. For more information, visit www.polandbandparents.org.
More like this from vindy.com