Local NHL fans, shoppers showing disinterest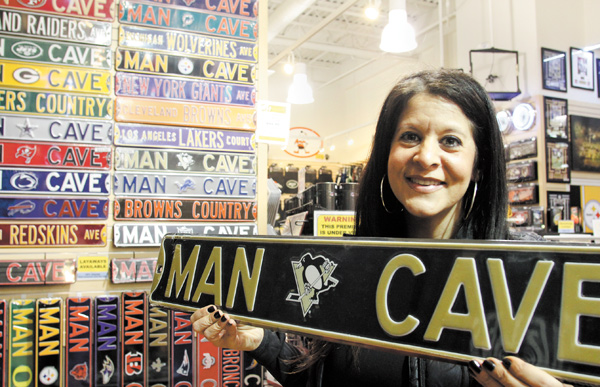 ---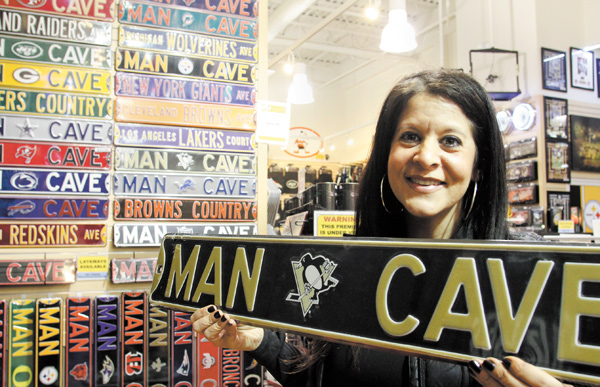 Photo
Touchdown Gifts owner Stephanie Mansour holds a Pittsburgh Penguins "Man Cave" sign in her store in Boardman's Southern Park Mall. Hockey merchandise sales are way down because of the lockout.
By Tom Williams
YOUNGSTOWN
As the National Hockey League's millionaire players and multimillionaire owners continue to drag their feet in negotiating a new contract, fans and merchants on the sidelines are expressing increasing disinterest.
"We're fed up with both sides," said Pittsburgh Penguins season ticketholder JoAnn Stock, who is not thrilled at the prospect of a 48-game season.
"How meaningful is season at 48 games?" Stock wondered.
The NHL normally plays an 82-game season. When the NHL owners locked out the players on Sept. 16, the league started canceling games in two-week chunks. Right now, all games through Dec. 30 of the original 2012-13 season have been canceled.
If a deal can be reached in the next two weeks, the NHL could try staging a 48-game season like it did in 1995 after a four-month lockout.
That deal won't do anything to help the merchants who normally count on some NHL sales in the holiday season.
"Terrible" is how Scott Jones of Sports Obsession in the Eastwood Mall in Niles described hockey sales this fall. "It's down 65 to 75 percent. We've sold one jersey.
"T-shirts are probably selling the best because they [don't cost] as much."
Sports Obsession has plenty of hockey jerseys, t-shirts and sweatshirts.
Business isn't better at Boardman's Southern Park Mall.
"The hoodies still sell, but I don't think we've sold one jersey," said Mike Raffa of Jersey World which opened two months ago in Southern Park.
Raffa said the hoodies are popular "because of the colors and people still buy the hats. The jersey sales are very low this year compared to last year and the year before."
Ah, two years ago, the year the Penguins hosted the Washington Capitals in the Winter Classic at Heinz Field. That holiday season, the Penguins introduced their latest alternate uniform, a throwback to the 1960s and '70s teams that wore blue instead of black and gold.
"That was a big deal," Anthony Napolitano of Eastwood's Jersey World said of the 2011 Winter Classic. "[Hockey fans] even came in for the [Alexander] Ovechkin jersey."
Napolitano said some customers were upset when there was no Winter Classic merchandise available this fall. (The Detroit Red Wings and Toronto Maple Leafs were supposed to play on New Year's Day in the University of Michigan's football stadium, but it's been canceled.)
"This year, there was [no Winter Classic merchandise] made," Napolitano said.
Jersey World has jerseys for the Pens as well as such popular NHL teams as the Philadelphia Flyers, New York Rangers and Detroit Red Wings. Both stores also sell Mitchell & Ness hooded sweatshirts that resemble old-school jerseys (Montreal Canadiens, the defunct Hartford Whalers).
Tangora's Sports Cards in Southern Park offers autographed jerseys, pucks and photographs.
Owner Chuck Tangora says hockey-related sales are way down.
"A small percentage of what we usually sell," Tangora estimated.
Surprised?
"No. Anytime there is a strike, those things happen. We just have to wait it out."
Stephanie Mansour, president of Touchdown Gifts in Southern Park, said the lockout has made a huge impact.
"The interest is definitely down — last year, we couldn't keep [Penguins merchandise] in stock," Mansour said.
Touchdown Gifts has jerseys, sweatshirts and designer shirts for women, including three styles for the Penguins. They were ordered before the lockout began.
The good news for the merchants is that none of those stores depend on hockey (a cult sport compared to football, baseball and basketball) to stay afloat.
"It's probably one of the slowest moving sports [compared to] NFL, MLB, even NASCAR," Jones said. "We probably sell more car stuff than NHL."
Napolitano said hockey "has never been our biggest area of business. Our biggest thing has always been hats. It's the younger kids — they're all into the snapback hats. We have a much younger demographic of customer."
What's hot this fall? Notre Dame.
"Notre Dame [products] have definitely made up on the loss of the NHL [sales]," Mansour said.
Jones agreed.
"Notre Dame is huge right now."
Youth hockey hasn't been impacted — yet. Brad Patterson, Youngstown Phantoms director of youth hockey, says The Ice Zone programs could be affected down the road.
"The biggest area it has affected would be in generating new skaters of hockey players," said Patterson of the lockout. "Often, we get kids who are wanting to learn or play hockey because they are Penguins fans or have seen games on TV or in person.
"Without having [NHL] games on TV and highlights on [ESPN's] SportsCenter, it may be 'out of sight, out of mind' for some people.
"Having the top-tiered [junior] league in town [USHL} playing at the Covelli Centre helps fight that, but having NHL games and TV coverage helps our sport from the grassroots level all the way up."
Phantoms attendance usually isn't affected whether the Penguins are playing or not. Crowds this fall at the Covelli Centre have not been large, mostly because most of the Phantoms' games were played on high school football nights.
When the lockout ends, Sports Obsession is poised for a hockey comeback.
"Our distributor had [NHL merchandise] on sale because of the lockout so our boss bought a ton of it so that when the lockout is over, we're ready," Jones said.
Marty and JoAnn Stock of Boardman have had a full season-ticket plan with the Penguins since the 2001-02 season. Their seats at Consol Energy Center are on the glass right behind where Penguins goalie Marc-Andre Fleury patrols in the first and third periods.
"At first, we were upset," JoAnn Stock said of the lockout. "But my husband and I have been so busy.
"We're fed up with both sides," she said. "It's just very disappointing that it's gone on as long as it has."