Canfield's Baker keeping his NFL dream alive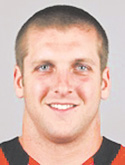 ---

Photo
By Joe Scalzo
For Sean Baker, there's one place better than home for the holidays.
After signing with the Tampa Bay Buccaneers as an undrafted free agent following April's NFL draft, the Canfield High graduate was among the team's final cuts in August. He spent the next three months traveling between Indianapolis (where he played football for Ball State) and Canfield, working out for two NFL teams (Atlanta and Miami) to keep his NFL dreams alive.
A few weeks ago, Tampa Bay invited him down for a workout and, on Nov. 27, signed him to the practice squad to provide depth for a team that had just placed safety Cody Grimm on injured reserve.
"After awhile, I never knew what was going to happen," said Baker, when asked if he felt he'd make it back to the NFL this season. "I just stayed in shape and kept myself mentally and physically ready to get that call."
Baker had played well in the preseason — he had two interceptions and recovered a fumble in Tampa's final exhibition game — and his agent, Buddy Baker, kept telling him to stay optimistic.
"My agent was working his tail off," Baker said. "He just told me, 'You put a lot of good tape out there' for my preseason stuff. I just trusted him and took him at his word and it all worked out."
In addition to their 53-member active roster, NFL teams are allowed up to eight players on their practice squads. Practice squad players make a minimum of $5,700 per week — the rookie minimum is just under $23,000 per week for active players — and can be signed to any team's active roster at any time.
While Baker benefits from knowing the Buccaneers' defense already — "I felt comfortable from the second I walked in here," he said — he knows he's not guaranteed anything past this week.
"It's a crazy business," he said. "I wish I knew [what was going to happen] but I have no idea. I could be bumped up [to the active roster] or cut on the same day.
"I'm kind of just going with it, working my tail off to make the most of my time here. It's all I can do."
Baker graduated with his general studies degree at Ball State and admits he has no idea what he's going to do after football.
"I still haven't figured it out yet," he said.
Tampa Bay (6-7), which would probably need to win out to have a chance at the playoffs, has three games remaining. If Baker is with the team the rest of the season, he'll spend Christmas in Florida.
And that's fine with him.
"If it's 80 degrees, that kind of throws you off but I'm not complaining," he said, laughing. "I'm just doing whatever I can to stick around."