Boardman's Winebold receives Eagle Scout Award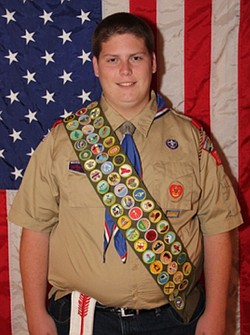 Photo
Neighbors | Submitted.Cory Winebold of Boardman will be honored on Nov. 10 by receiving his Eagle Scout Award. To achieve this award, winebold restored five historic gardens outside Loghurst.
Cory Winebold, son of Kevin and Shelley Winebold of Boardman, received his Eagle Scout award on Nov. 10 at Camp Stambaugh in Canfield.
Winebold first came from Cub Scout Pack 60 as a Tiger to Webelos II and earned his Arrow of Light. He crossed over into Troop 46 where he worked to achieve the rank of Eagle Scout.
His Eagle Scout project included the creation of a symmetrical garden outside the gates of Loghurst, which re-created the historical herb garden bed (dating from 1850-1895) and a garden area (1895-1978), located directly behind the house. Winebold's project took many hours to redo these five garden beds in order to maintain the historical accuracy.
Winebold's Boy Scout accomplishments also include earning 64 merit badges, the American Heritage Award, World Conservation Award, and two Religious Awards – God and Me and God and Life. Winebold has held many different positions throughout his scouting career, including den chief, librarian, quartermaster, patrol leader, assistant patrol leader and now the position of junior assistant scoutmaster. He is currently working on achieving the prestigious Olympic Medal of Boy Scouts known as the Hornaday Award at Loghurst Farmhouse and Museum.
Winebold attends Boardman High School where he is an active member of the school's marching band, jazz group and bowling team. He is hoping to start pre-law after graduating high school.