Officers honored at ceremony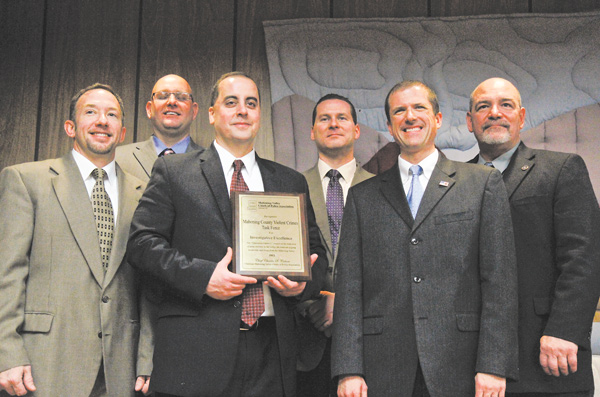 ---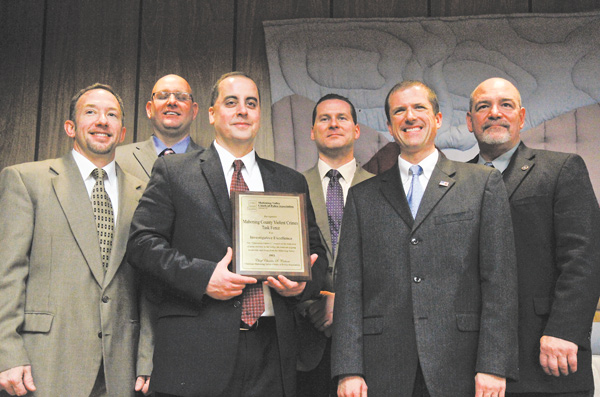 Photo
The Mahoning Valley Violent Crimes Task Force received an award at a luncheon for its work in stopping gang activity in the city. Pictured are six of the dozen task-force members recognized during the luncheon, which was put on by the Mahoning Valley Chiefs of Police Association.
Staff report
YOUNGSTOWN
An awards ceremony for police officers this week honored some of the area's top cops, including a dozen officers involved in investigations leading to the arrests of multiple gang members in Youngstown.
The Mahoning Valley Chiefs of Police Association had its annual awards luncheon on the campus of Youngstown State University on Wednesday.
More than 20 officers and prosecuting attorneys were recognized for their efforts in fighting crime.
Chuck Colucci, Canfield police chief and chairman of the police organization, said it is important to take one day out of the year and recognize those officers who have greatly impacted the community.
"This is a good time for us to get together at the end of the year and recognize those who have gone above and beyond the call of duty," he said.
"These are valuable members of various agencies. ... This year we are recognizing a group for their efforts with the violent-crimes task force."
The collective efforts of that group of officers in the Mahoning Valley Violent Crimes Task Force is responsible for indictments and arrest of 50 gang members in the city of Youngstown.
Jon Holloway, of the FBI and Mahoning Valley Violent Crimes Task Force, said the task force has divided its efforts into two working groups — one conducting short-term investigations and another conducting long-term investigations.
He said the two efforts are responsible for the multiple gang indictments, including members of the H-Block and Boss Boys — gangs that he said are responsible for a litany of violent acts in the city.
"This was a significant benefit to the community. ... They did some great work this year and had a significant impact on the city by taking these bad guys off the streets," he said.
Task force members were not the only officers to be recognized at the luncheon.
Benjamin Harrell of the Warren City Police Department was honored for his work in finding a small child taken when his parent's car was stolen earlier this year.
Detective Michael Currington also of Warren Police Department and Lieutenant William Woodley of McDonald Police Department were honored for their work in catching a repeat child molester in an investigation that took the two men to Toronto, Canada, in search of the suspect.
Other officers honored for work in their departments are Detective Sergeant Jeffrey Toth of Austintown Police Department, Patrolman Greg Tarr of Hubbard Township Police Department, and Sergeant Randall Campana, Assistant Chief Bruce Emery and Officer Patrick Murphy, all of Mill Creek Park Police Department.
John Stoll, FBI, was honored as a retiring member of the association after 27 years in law enforcement.
David Toepfer of the United States attorney's office was the guest speaker at the luncheon. He talked about the collaborative efforts needed for the officers to accomplish the things they accomplished.
"This kind of cooperation starts at the top. We are like any family; we have our differences, but when it's time to get things done, we set aside those differences," he said.
"This is something unique to this area."