'Journey to Bethlehem' shares message of Christmas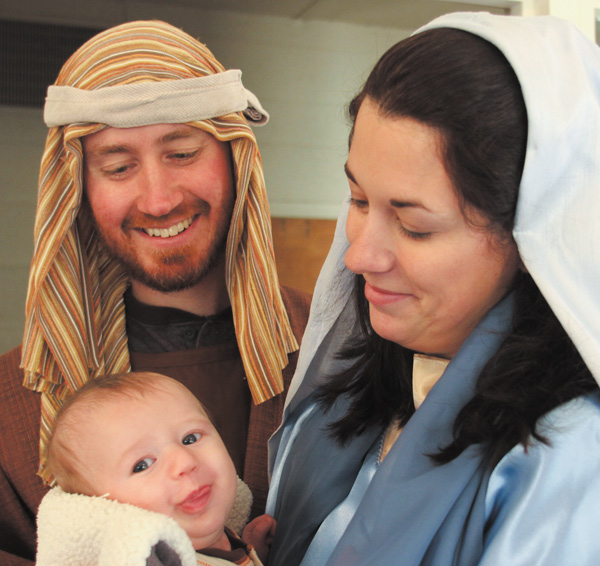 ---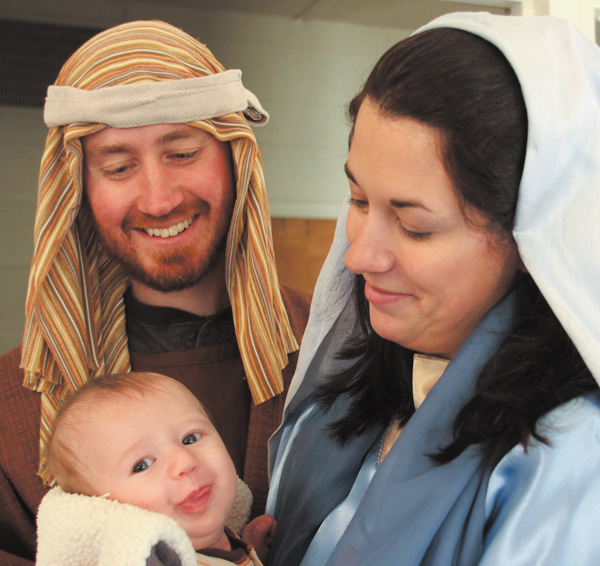 Photo
Evan Grope is all smiles in his role as baby Jesus as his parents, Michael and Sarah Grope, share the happy moment. The family is participating in the live Nativity, "Journey to Bethlehem," planned Saturday at Disciples Christian Church in Boardman.
By LINDA M. LINONIS
Boardman
Disciples Christian Church will stage a live Nativity as its Christmas gift to the community.
The free and family-friendly activity is scheduled from 1 to 4 p.m. Saturday in and on the grounds of the Disciples of Christ-denomination church at 565 Boardman-Canfield Road.
It requires participation and imagination of those attending, but the effort will be well worth it.
Carol Salmon, coordinator, said this is the fourth year for the event that is both fun and educational.
The Nativity involves a cast of 30 who are church members and some community volunteers. Live animals, including a camel, will be provided by the Duane Felger family.
"It's been a rewarding experience for those involved," Salmon said.
She said someone once asked what the church would want to be remembered for.
"I think it would be that we are a giving church," she said, adding that such activities as the live Nativity reflect that spirit.
Salmon said young to older members are involved. Each contributes something — from participating in the walk-through drama to making cookies for refreshments. "It's all a team effort," she said.
Salmon said participants are rewarded by comments from those attending. "It's a joy to watch families participate," she said.
The Rev. Timothy Brown said the drama, which evokes sights and sounds of Bethlehem, "is a wonderful experience for families and their children ... they not only hear the story but see the story and its significance."
The pastor said the event provides an "opportunity for the church to share the message of Christmas."
The Rev. Mr. Brown also noted that the event is free and provides a positive experience for families. "It's something we can offer in these tough economic times," he said.
"The birth of Christ gives us hope," he said, even when people face difficulties. "Having Christ in the world makes it better."
Those attending the live Nativity will "truly be on a journey," Salmon said.
Mary Ciavarella and the pastor prepared a script for cast members to follow. "We wanted to make it understandable for children," she said. Scripture is incorporated in the script.
As people leave their cars, they'll be hailed by a Roman soldier to gather around him. Tour guides will lead groups of eight to 10 people on the journey, starting with being counted in the census ordered by Caesar Augustus.
Tour groups will meet King Herod played by Richard Grate, chairman of the elders. "I like playing the part," he said, noting he's sometimes loud and curious when he's trying to find out about "the child."
Sarah and Michael Grope and their son, Evan, born Oct. 4, play Mary, Joseph and baby Jesus.
As the groups continue their journey, they'll encounter angels in the sanctuary, then will go outdoors to tented areas where they will meet the Wise Men, shepherds and stop at the manger to visit with Mary, Joseph and baby Jesus.
But the journey doesn't end there. The church fellowship hall will evoke a marketplace, where craftsmen are working. For visitors of all ages, there will be crafts to make and take.
Bonnie Hess is working with children's crafts — they can make a star or ornament. "If they can hold a crayon, we can help them," Hess said. "We see new people every year ... that's our goal ... reaching people," she said.
Teens and adults can make origami stars, said Pat Layda. "I like the hands-on of helping people," she said. Another craft station will be family prayer vessels made from air-dry clay.
"It's all about sharing the Christmas story," Ciavarella said.