Mooney graduate punting for Toledo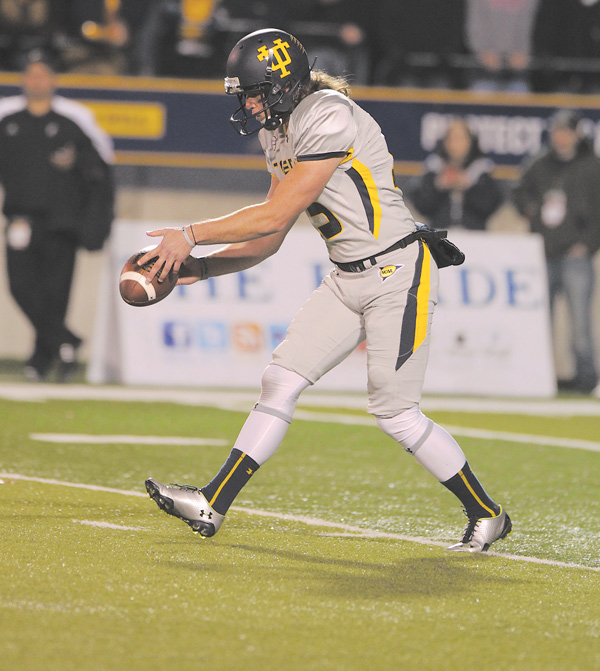 ---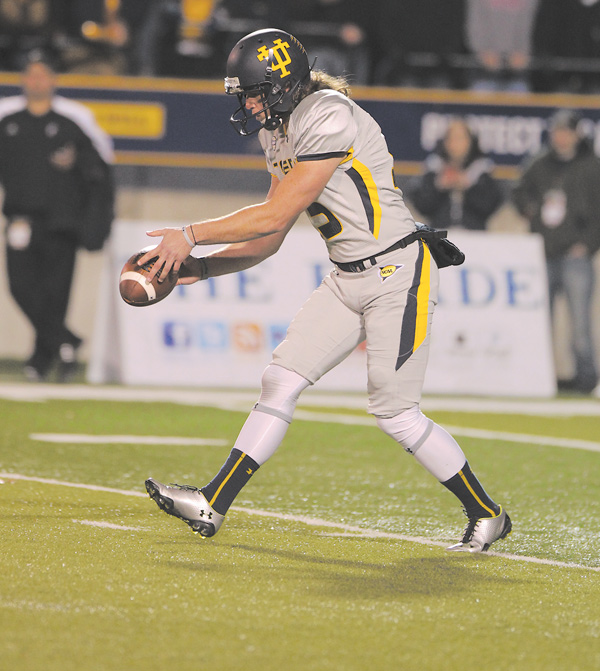 Photo
Junior Vince Penza, shown in action during a game against Cincinnati on Oct. 20, will handle the punting duties for the Toledo Rockets against Utah State in the Famous Idaho Potato Bowl on Saturday. Penza, a Cardinal Mooney High School graduate, averages 40.6 yards per punt for Toledo (9-3).
When Toledo punter Vince Penza plays in the Famous Idaho Potato Bowl on Saturday, it's unlikely that he'll don a patch on his jersey to express some personal message similar to what Minnesota Vikings punter Chris Kluwe did recently during a game against the Chicago Bears.
By displaying a patch that read "Vote Ray Guy," Kluwe was continuing his campaign to get punter Ray Guy into the Pro Football Hall of Fame.
Although players are wearing patches to celebrate the hall's 50th anniversary, Kluwe's inscription was in protest of the fact that there are no punters in the hall.
Although Penza was nominated as a candidate for the Ray Guy Award, he didn't make the semifinal list for the award that recognizes the top punter in the college ranks.
With a 40.6-yard average this season, however, Penza is still grateful to be among those college players in a postseason game.
"I focused on punting because I knew that would be my ticket to playing at the next level," Penza said in reflecting on his days at Cardinal Mooney, where he concentrated on the specialty as a junior and senior.
Penza was a preferred walk-on at Toledo, where he ended up earning a scholarship.
Now in his third season, the 6-foot-1, 205-pound junior's performance has helped the Rockets to a runnerup finish in the Mid-American Conference's west division, a spot behind Orange Bowl-bound Northern Illinois.
Penza punted in two other post-season bowls: Little Caesar's Bowl in Detroit during his redshirt freshman year in 2010 and the Military Bowl in Washington, D.C., in 2011.
The Famous Idaho Potato Bowl will be in Boise against Utah State, 10-point favorite.
"It's nothing new, but it's a huge game and there are a lot of expectations and it gets us more exposure," Penza said of Toledo (9-3). "It's great for myself, great for the team and great for the MAC."
Along with distance average, placement is important as well, said Penza, who had 19 of his 52 punts inside the 20-yard line. Just 14 of his punts were returned for a total of 100 yards.
"You've got to know where to put it," Penza said of the balance of distance and accuracy. "It's a little of both depending on the type of return we have. If there's a dynamic returner, they'll ask me to kind of put more hang time on it, so he doesn't get a chance to return it or put it out of bounds so he doesn't get a chance or to corner him so he doesn't have enough room."
Penza's special teams coach is former Austintown Fitch player Stan Watson, who has made a big difference in overseeing the punting phase.
"He has a lot to do with the success of all of our special teams," Penza said. "He understands more about punting because it's not as easy as it looks and that has allowed me to be able to relax a little more and punt to my full potential.
"It's been a lot more of allowing me to not 'put it here or put it there,' but, rather, to 'put it in a general area and we'll go down and get it covered for you.' "
The approach has reduced the mental strain on the punter, who is also the holder on field goals and extra-point kicks.
"It takes a lot of practice, hard work and dedication," Penza said of punting. "I'd compare it to golf because it takes lot of focus and a lot of visualization as well as technique, flexibility and strength."
Asked if his kicking leg is stronger than the non-kicking leg, Penza said: "I try to keep a good ratio of right leg to left leg."
Penza's presence at Toledo follows in the footsteps of his father, John.
"That was a big part of the reason I chose Toledo, so I'm carrying on the tradition," Penza said. "Plus, it was kind of close to home."
John Penza graduated from Toledo in 1980.
Vince's family has seen most of his games, whether home or away, except for those in Arizona and Wyoming.
Although it's not Hawaii, Penza, who is studying exercise science in hopes of eventually settling into dentistry, said the Rockets will do some sightseeing while in Idaho.
It's a reward or "small vacation" for a successful season.