Governor will discuss a study of the Ohio Turnpike today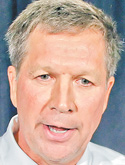 ---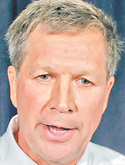 Photo
Austintown
Gov. John Kasich will discuss the results of a $3.4 million study on how the Ohio Turnpike will operate today during visits to Austintown, Toledo and Cleveland.
A Wednesday email from the governor's office stated Kasich "will announce new strategies for filling Ohio's $1.6 billion highway funding deficit" at the three locations and discuss a "new highway funding strategy and turnpike plans."
The Austintown event is at Cerni Motors, a few miles from the turnpike.
Kasich has long discussed the possibility of leasing the turnpike, a 241-mile toll-road across the northern portion of the state, to a private company.
It's a position that has met with opposition from political officials in the Mahoning Valley as well as other areas on or near the turnpike.
The Columbus Dispatch reported Wednesday that Kasich will not try to lease the turnpike. Instead, Kasich is expected to announce the Ohio Department of Transportation will become more heavily involved in the operation of the road, according to the newspaper.
That would enable the state to borrow money for state infrastructure work by leveraging the turnpike's revenue through the issuance of new debt against it or redirecting toll revenue toward non-turnpike road projects.
The state's highway funding deficit is $1.6 billion.
Kasich, a Republican, recently said that most of the road-improvement projects in the state are in the northern part.
U.S. Rep. Tim Ryan of Niles, D-17th, said Wednesday that he was "extremely concerned" Kasich would lease the turnpike.
"Any changes that happen should have the northern part of the state benefit" more than the rest of Ohio, Ryan said.