Pirates look to finish 2013 better than 2012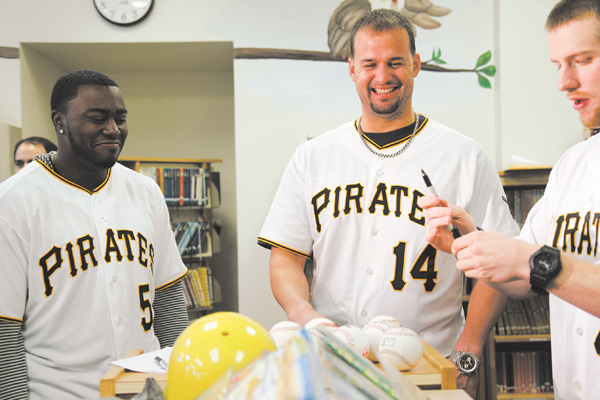 ---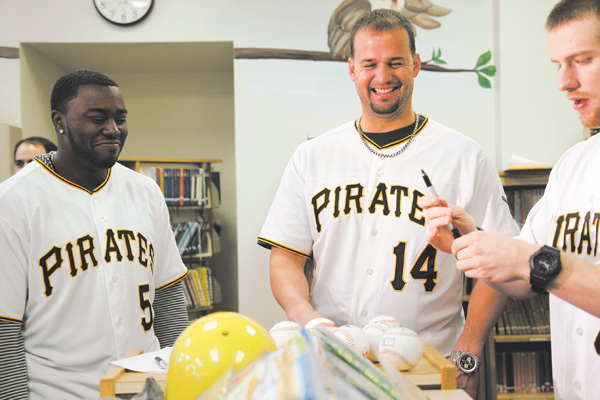 Photo
Pittsburgh Pirates players Josh Harrison, Gaby Sanchez and Alex Presley sign baseballs Wednesday at Poland Union Elementary School. The players, along with manager Clint Hurdle, later played "We-Are-Family" Feud with students in the school's gymnasium.
POLAND
Pittsburgh Pirates infielder Josh Harrison made his second trip to the Mahoning Valley on Wednesday.
And he received a proper welcome, sort of.
"I saw a few Harrison jerseys," said Pirates manager Clint Hurdle. "It may have been a Steelers jersey but that's the way they represented Josh."
Yes, Steelers linebacker James Harrison's No. 92 was more prevalent than Josh's No. 5.
The Cincinnati native was part of the Pirates Caravan that made its annual stop at Poland Union Elementary. Harrison also came here in the late-1990s to Cene Park in Struthers for a summer traveling league.
"I've been in Youngstown when I was younger playing in tournaments, but that's been some years ago," he said, "I picked up tee-ball when I was 3 years old and always knew I wanted to be a ballplayer."
The 2012 season was his first full campaign in the big leagues. He played in 104 games with stints at shortstop, third base, second base and even right field. The 2003 sixth round pick out of the University of Cincinnati batted .233 with just three home runs, but had a .989 fielding percentage.
"This past year was definitely an eye-opener," Harrison said. "You imagine what it's like, but you really don't know until you experience it. Actually experiencing a full season in the big leagues, it's definitely a grind. My first year, I was in Pittsburgh half of the year, but was getting sent up and down. I was still on that high. I didn't get to take it all in like I could now."
For the 25-year old, just being able to play baseball for a living is a blessing. But not something to be taken for granted.
"You can't really let it sink in," Harrison said. "You definitely want to live it, but at the same time you know your work's not done. At any moment, something can happen. There's always somebody coming for your spot.
"The moment you settle and say, 'Ah, I'm a big leaguer,' is when you're going to get out-worked."
That's exactly how Pittsburgh outfielder Alex Presley, feels.
He made his debut at the end of 2010, but like Harrison, has been sent up and down to and from the minors, even in 2012.
The Pirates have a crowded outfield with MVP candidate Andrew McCutchen holding down center field, rookie Starling Marte making a strong debut in left and veteran Garrett Jones seeing a bulk of the starts in right. Presley, Travis Snider and Jose Tabata have fought for playing time and entering 2013, may be fighting for a spot on the team.
"There's always something to prove every year coming in," Presley said. "There's always someone at your heels. You have to establish yourself every season. I'm going to work hard, I want to be a key part of this team."
The Pirates were 16 games above .500 on Aug. 8, but historically collapsed to finish the year at 79-83 — a 21st consecutive losing season. On Sept. 7, Pittsburgh committed seven errors in a 4-3 loss to the Cubs. On Sept. 28, it was no-hit by Cincinnati Reds pitcher Homer Bailey. It was the second year in a row that they've been in playoff contention midway through the season only to stumble at the end.
"The season kind of got away from us last year," Presley said. "We had a good three quarters of the season, we just need to finish it out. We have to stay level headed through the good stretches and the bad."
This offseason, the Pirates have resigned relief pitcher Jason Grilli to a two-year contract worth $6.75 million. The 36-year old could be the team's closer if rumors that Joel Hanrahan will be traded prove to be true. Grilli struck out 13.8 batter per nine innings, fourth-best in the National League.
Pittsburgh also signed catcher Russell Martin to a two-year deal worth $17 million — the largest contract Pittsburgh has ever spent on a free agent. Martin hit a career low .211 with the Yankees, last year, but finished with a career-best 21 homers.
"We've become more aggressive in a lot of different areas," Hurdle said. "Russell Martin was weighing his options with the Rangers, Yankees and Pirates. In years past, I don't think we win that battle. Our street cred is picking up."