Browns defense gearing up for RG3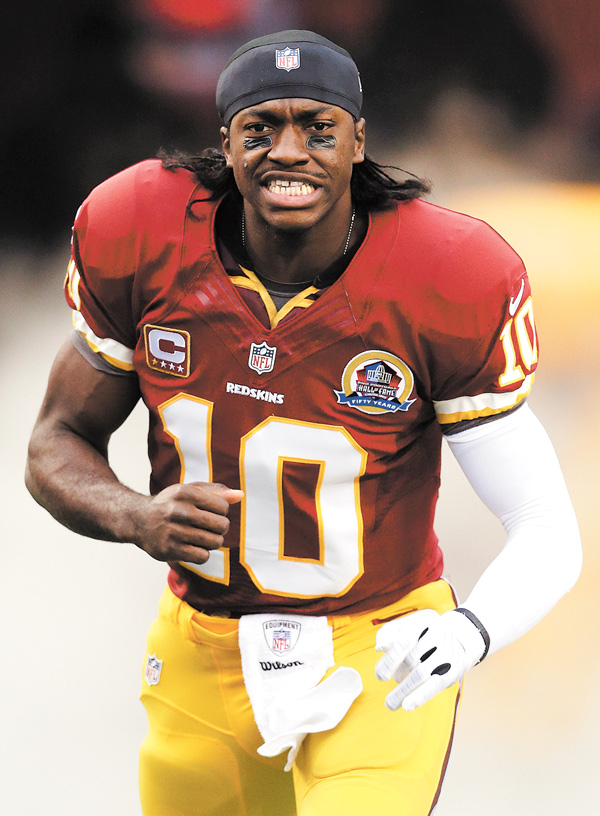 Photo
The Cleveland Browns expect Washington Redskins quarterback Robert Griffin III, who has a knee injury, to play when the teams meet Sunday.
Associated Press
BEREA
Browns quarterback Brandon Weeden returned from practice to find a green XXXL Baylor University golf shirt hanging in his locker.
Another sign of Robert Griffin III's impending visit.
RG3 and America's most-watched knee were the main topics of conservation as the Browns (5-8) began getting ready for Sunday's game against the Redskins (7-6), who are hoping their starting rookie quarterback will be able to play after straining his right knee on a scary hit three days ago.
Griffin practiced Wednesday, and based on some video highlights of his workout and deliberately vague comments coming from Washington's headquarters in Auburn, Va., it's increasingly likely the multi-dimensional QB will play against the Browns.
They never thought otherwise.
"We're preparing for him to play," linebacker D'Qwell Jackson said.
Griffin's playing status may not be known for several days, and Redskins coach Mike Shanahan will probably keep the Browns guessing right up until kickoff. If Griffin can't play, rookie Kirk Cousins, who came off the bench in the final minutes of regulation and helped the Redskins beat Baltimore in overtime last week, will make his first career start.
The Browns will be ready for either scenario.
"We have to prepare for their offense," coach Pat Shurmur said. "It's extremely important that we not try to look at what things are being said. They've got two fine quarterbacks, they are different in style in some ways, but their offense is very effective. They have elements of the drop-back passing game, they have elements of option football and, of course, their running game resembles in a lot of ways the off-tackle zone stuff that the Shanahans have always been known for."
Griffin's mobility, arm strength, elusiveness and speed present problems unlike any quarterback in the NFL. His ability to tuck the ball and turn up field for big yardage can change a game, and drive a defense crazy. It's nearly impossible to prepare for a QB with his skill set because his talents are so unique.
It's one thing to watch him on tape. Seeing him in person is another matter.
RG3 can make any defense look bad.
"We've got to make sure that we're doing our jobs and make sure that we're sound in the gaps and take care of the little things," said defensive tackle Ahtyba Rubin, "and hopefully he'll fall in our laps and we make some big plays."
Griffin's ability to improvise when a play breaks down is one of his biggest assets. Once he's outside the pocket, he's even more dangerous.
The Browns have to keep Griffin from getting loose, and defensive tackle Phil Taylor said there's a simple way to do that.
"Fire off the ball, whip the O-line's (butt)," he said succinctly.
Taylor was college teammates with Griffin at Baylor. The Browns' big man said he hasn't been surprised by the No. 2 overall pick's early success as a pro. In fact, Taylor expected it after the way Cam Newton dazzled in his first season.
"I never doubted him," said Taylor, who placed the Baylor shirt in Weeden's locker. "I knew he would come in and do it. The only thing I questioned was his toughness. In college he would get hit and I always told him during his senior year, 'You think you're getting hit in college? Wait 'til you get to the league.' He's shown me this year he's tough and he can take a hit."