Workers keep kids bouncing safely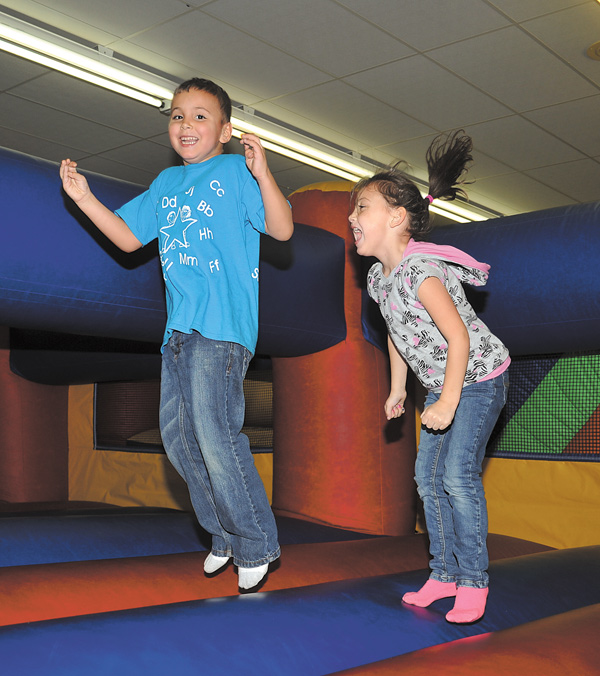 ---

Photo
Isaac and Izabella Melendez, of Austintown, have a good time and are all smiles at Austintown Bounce. Austintown Bounce Indoor Play Center had an event Tuesday to teach bounce-house safety.
By Susan Tebben
Austintown
The smiles on the faces of children running through the inflatable houses at Austintown Bounce were being watched closely by employee Larry Porter.
As he is trained to do, Porter watches for any rule-breaking by the children or problems with the bounce house itself.
"We and the parents have to enforce all the rules when kids are in one of these," Porter said. "They [children] will try wrestling in there, and they're just trying to have fun, but we have to carefully watch."
Porter is one of many employees at the play center, including co-owner Bruce Shepas, who are trying to dispel negative media attention on bounce houses, Shepas said.
"There are a lot of misconceptions about bounce houses," Shepas said. "But a lot of times, these misconceptions are based on houses that aren't professionally maintained and anchored. We don't want customers to be discouraged by what they hear."
Some of the fears come from reports of injuries and dangers of bounce houses published nationwide. In a study published in the December issue of the journal Pediatrics, emergency-department records showed an estimated 65,000 children injured by inflatable bouncers from 1990 to 2010.
The most common injuries were fractures or strains and sprains, according to the study.
Austintown Bounce hosted a safety event this week to teach parents about proper setup, inspection and maintenance.
"We want them to realize our staff is well-trained, follow the policies for proper safety, and everything is professionally done," Shepas said.
Shepas helped start the Austintown business as a rental company in 2007, and it now has an 11,000-square-foot facility at 4317 Kirk Road. It is the only facility in the area certified by the Safe Inflatable Operators Training Organization, according to Shepas.
At the safety event, Shepas explained the importance of keeping the inflatables clean and how much of a factor weather is to the use of a bounce house.
"We try to tell them, plain and simple, if there's inclement weather, just pull the plug," Shepas said.
Shepas and his team all follow policies to keep their inflatable bouncers maintained, but there also are regulations through the U.S. Department of Agriculture's Division of Amusement Ride Safety. The USDA inspects all inflatables, whether they are in a facility or rented to individuals.
The business hopes to have another safety event closer to the summer, when the use of the bounce houses for birthday parties and festivals increases.