Ohio reacts to Michigan's right-to-work legislation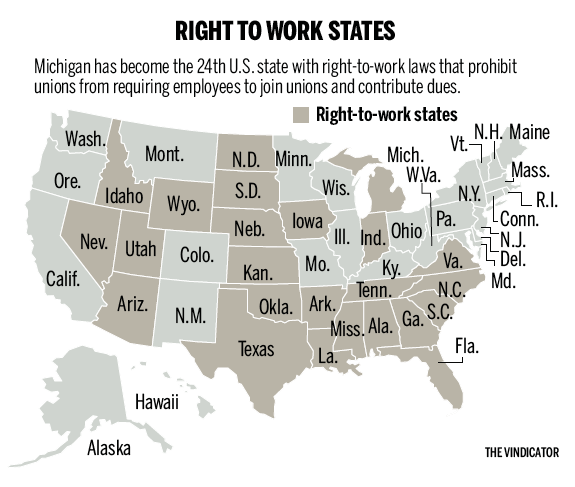 ---
and Burton Speakman
YOUNGSTOWN
With Michigan's governor signing into law a package of right-to-work legislation Tuesday, labor officials, politicians and others across the Mahoning Valley remain at odds on just how the move might affect Ohio.
Michigan's Legislature gave final approval earlier Tuesday to two separate bills that likely will curb the power of both private- and public- sector unions, a once unthinkable and hotly contested move in what long has been a bastion for organized labor.
Republican Gov. Rick Snyder signed them both within an hour.
Little more than a year after Ohio voters repealed Senate Bill 5, a piece of legislation signed by Gov. John Kasich that would have significantly curbed collective-bargaining rights for more than 350,000 of the state's public workers, some wonder if Michigan's efforts will lead Ohio's right-to-work advocates to push for legislative concessions here.
"The anti-worker laws drive down wages and benefits for workers; as for how Ohio will be affected by what they did in Michigan — I don't know," said AFL-CIO President Tim Burga. "However, we had a very similar vote on SB 5 last year, and citizens defeated it by unprecedented margins."
The Michigan legislation makes it the country's 24th right-to-work state. Such laws ban requirements that all employees either join a union or still pay unions for negotiating contracts and other services.
Unlike the labor battles that have dragged on for weeks at a time since 2010 in places such as Maine, Wisconsin and Tennessee, the dispute in Michigan has unfolded in less than a week.
Republican lawmakers, who have the majority in Michigan, introduced and rammed the bills through both chambers with little public input, according to labor leaders.
"The citizens there don't want it," said Bill Padisak, president of the Mahoning-Trumbull AFL-CIO Labor Council. "They locked the doors of the statehouse and refused to let the public inside. From what I understand, they passed it without any public opinion."
Passage of the Michigan legislation may embolden Gov. John Kasich to attempt similar legislation in Ohio, said Glenn Johnson, president of United Autoworkers Local 1112 in Lordstown.
Padisak agreed but said it was more likely that third-party groups would be persuaded to step up petition efforts to land proposals similar to the Michigan legislation on the Ohio ballot next year.
State Rep. Robert Hagan of Youngstown, D-60th, said the Ohio Legislature does not have time to take up right-to-work legislation in the current session. He added that the Legislature does not appear inclined to tackle the issue.
"I think Republicans heard loud and clear that collective bargaining in Ohio is not to be messed with," Hagan said, referring to voters who overturned SB 5 last year.
Right-to-work supporters claim such laws give workers more choice and boost economic growth, but critics contend the legislation is aimed at draining unions of the money they need to negotiate effectively.
"Look at right-to-work states versus Ohio. They often fall in the unenviable category of high unemployment, low wages and benefits, and they fail to attract new businesses. It doesn't work out," Burga said.
But Mark Munroe, chairman of the Mahoning County Republican Party, sees it differently.
"Legislators in Michigan were taking action to save the state," Munroe said. "Michigan has one of the worst economies in the U.S. and it's not surprising they're searching for ways to rework themselves."
Munroe countered Burga by saying that states with right-to-work laws have stronger economies than those without them.
Already this week, Kasich has taken multiple occasions to remind reporters that Michigan-like right-to-work legislation isn't on his agenda for the new year.
"I have a very aggressive agenda for '13 and '14 that includes things like education reform, both at the university level, community college level, K-12," Kasich said. "We have a big change coming with our infrastructure program, tax reform, managing a lot of these businesses, including fracking, and that's the agenda that I'm focused on and what I'm going to continue to be focused on."
A conservative group, Ohioans for Workplace Freedom, still could place a right-to-work issue on the 2013 ballot. Backers need to collect about 386,000 valid signatures to accomplish the task. Kasich would not comment this week on whether he supported that effort.
"If they try to do something in Ohio, we'll have another referendum like with SB 5," said Dave Green, president of UAW 1714 in Lordstown. "We'll have an open and honest discussion and let the public decide."
Marc Kovac, Vindicator Columbus correspondent, contributed to this story.