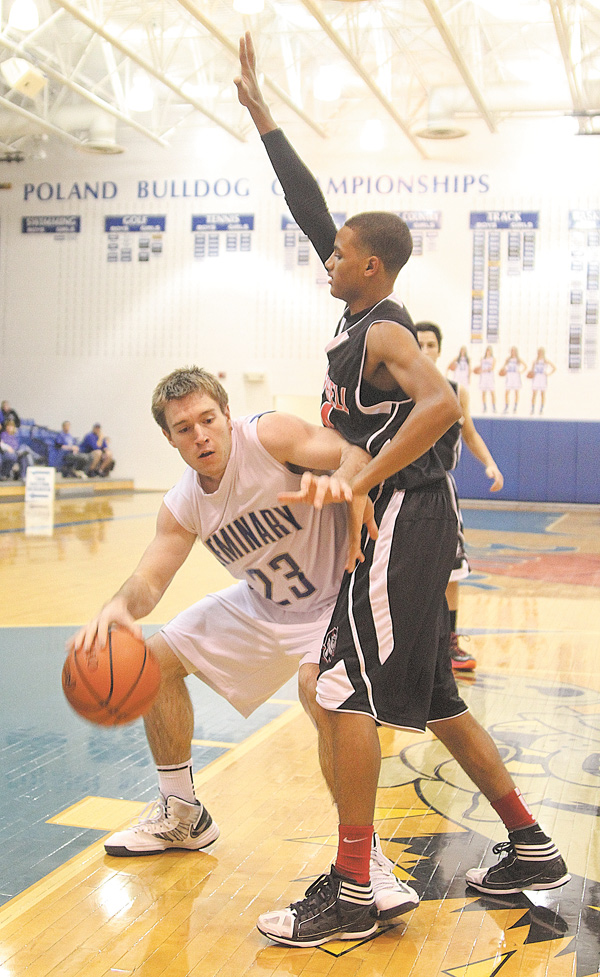 ---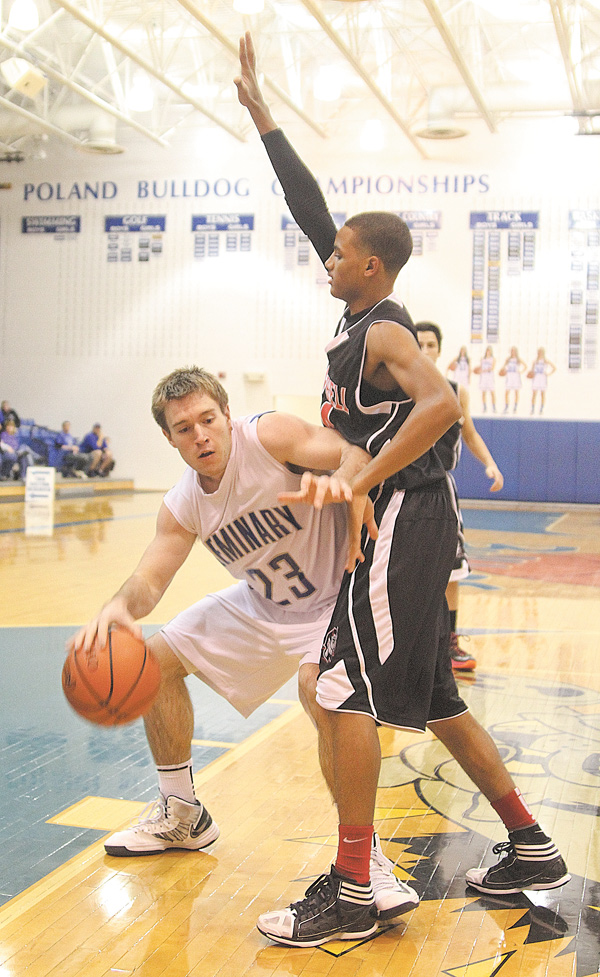 Photo
Poland's Alex Hubbell tries to get to the hoop as Campbell Memorial's Daron Clinkscale defends Tuesday night.
By Ryan Buck
POLAND
The full-court press is an important part of basketball lore.
Nolan Richardson's University of Arkansas squad won a national title in 1994 with their "40 Minutes of Hell." Rick Pitino rebuilt Kentucky into a perennial power and won his own title with it. Virginia Commonwealth coach Shaka Smart, who led the underdog Rams to the 2010 Final Four, calls his version of the strategy "Havoc Ball."
Tuesday night at the Poland High Fieldhouse, the Bulldogs employed the full-court press to perfection as they defeated All-American Conference foe Campbell Memorial, 67-35.
Ahead 25-16 coming out of the half, the Bulldogs' defense suffocated the Red Devils in the third quarter, holding them to three points and forcing 10 turnovers in the decisive frame.
"We needed to change the tempo," Poland coach Ken Grisdale said. "We didn't want to get into a running game, but we needed to make something easy for us offensively."
After making only nine of 19 shots in a plodding first half, Poland assistant coach Chad Fender called on the Bulldogs to pressure Campbell's inbounds pass after a George Chammas layup.
Poland forced turnovers on six straight possessions and scored 11 points off them. Junior forward Jacob Wolfe's three-point play off a steal capped the run.
"We were able to get a couple quick turnovers and got a little breathing room there," said Grisdale, now in his 19th season at Poland. "That turned the tide in the third quarter."
D.J. Harrison's free throw at the 2-minute mark broke the drought for the Red Devils. His layup with time winding down provided Campbell's only other points in the third quarter.
"In the second half, we didn't run our press-breaker right," said first-year Campbell coach Mike Szenborn. "It pretty much came down to execution. They executed their traps really well and we just weren't in the right spots."
Campbell's athleticism in the back court caused problems for Poland in the first half. After notching seven points minutes into the game, Wolfe sat down with his second foul with 1:38 left in the first quarter.
Just as Grisdale had hoped, the rest of the Bulldogs found their way to the basket and made key stops on defense.
"That was a good little lesson for us to have to figure out," Grisdale said. "The other guys figured out how to do without him and that'll help us down the road."
Chammas and solid play from the helped.
"Wolfe's our leading scorer and once he came out, I knew I had to step it up and get some buckets for our team and pick up the hustle," said Chammas, who scored 10 points.
Harrison and Jayle'll Shorter led Campbell with eight points apiece.