Akiva Academy will 'Light' the way for Hanukkah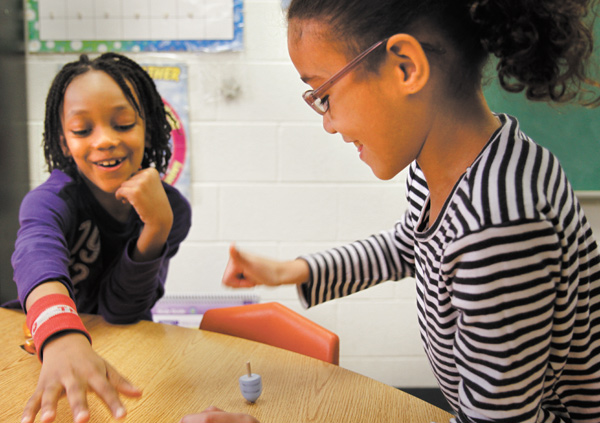 Photo
Manny Rivera, left and Kayla Paez, first-graders at Akiva Academy in Youngstown, spin dreidels in their classroom. The students will participate in "Light," a community Hanukkah program Thursday.
By LINDA M. LINONIS
Youngstown
Akiva Academy students will share what they've learned about the reason behind Hanukkah, the value of religious freedom, through a musical presentation.
"Light" is the theme of the program planned for 6:30 p.m. Thursday at the Jewish Community Center.
"It's a universal message," said Susan Schonberger, coordinator of the Commission for Jewish Education. At Akiva, students are taught values as a universal concept that many faith traditions share.
The community observance this week is a joint effort of Akiva and the Jewish Community Relations Council of the Youngstown Area Jewish Federation.
Schonberger said the Akiva and JCRC observances were combined three years ago. "It just made sense," she said, noting the JCRC event provided a "built-in audience" for the Akiva program.
Akiva students from kindergarten through eighth grade are involved. The gist of the program is a teacher falling asleep and dreaming about the symbols of Hanukkah. Schonberger said they plan to use a video projected on a screen to move the story along. Menorahs, dreidels, Maccabees, latkes, doughnuts and gelte (chocolate coins) will be among the symbols featured.
Playing on the light theme, Schonberger said a photo was taken of each of the teachers and the 78 students, all with candles.
"Past guests from Israel also were invited to send photos like that," Schonberger said. The photos will be part of a Power Point video to emphasize the idea of community.
Hanukkah, also known as the festival of lights, recalls the historical story of the small band of Maccabees who won religious freedom by defeating the Syrian Greeks. The much-bigger force had tried to stop the Jews from practicing their religion. When the Jews returned to the temple to light the lamps, there was only enough oil for one day. A miracle occurred when the oil lasted for eight days.
The program will include songs such as "Sevivon" about dreidels, "I Have a Little Dreidel," "O Hanukkah" and "Maoz Tzur," the original "Rock of Ages." Schonberger said maoz means strength and tzur, rock. "God has given us strength," Schonberger said of the meaning.
Tirtza Kohan, Hebrew/Judaic coordinator and first-grade teacher, said courage is the theme for this month and relates to the bravery of the small band of Maccabees who fought a much larger group.
"We talk about the idea of standing up for what's right," Kohan said. In the school setting, it also provides a teaching moment about bullying. "We do role- playing," she said.
Kohan said students learn social-studies aspects of the time of the Maccabees.
Kohan also said the program also helps students "learn to work together" and "cooperate."
"We want them to feel a part of the community," she said.
Seventh-grader Sophie Alpere, 12, said she likes participating in the Hanukkah program because it's "fun and educational."