Steelers rookie lineman practices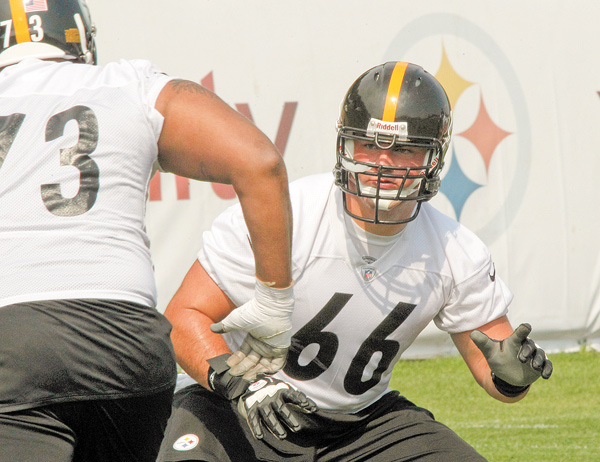 ---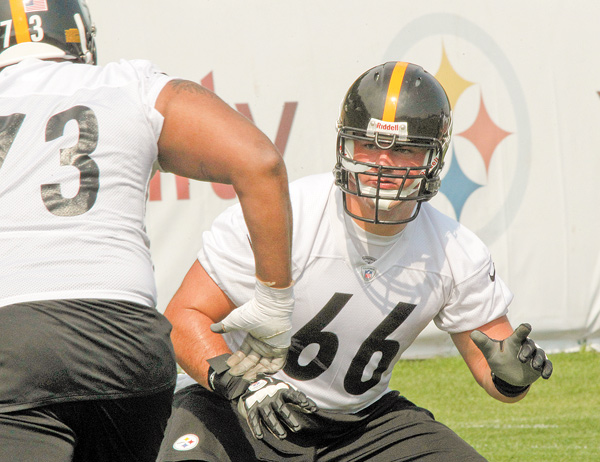 Photo
Pittsburgh Steelers offensive guard David DeCastro (66) practices during training camp at the team training facility in Latrobe, Pa. The Steelers drafted DeCastro with their first pick in the NFL draft in April, but the rookie injured his knee in a preseason game and has yet to play in the regular season. Steelers coach Mike Tomlin said Tuesday that DeCastro will be worked in at right guard during practice this week and could start Sunday when the Steelers play the Dallas Cowboys.
Associated Press
PITTSBURGH
Steelers general manager Kevin Colbert and coach Mike Tomlin could barely contain themselves on draft day when David DeCastro fell to Pittsburgh at No. 24.
Eight months later, it appears they'll finally get a chance to see him line up at guard in a regular-season game.
Left guard Willie Colon had surgery on his left knee on Monday and could be out for the season. Tomlin said Tuesday that DeCastro will be worked in at right guard during practice this week and could start Sunday when the Steelers (7-6) play at Dallas (7-6).
After quickly earning his way onto the first team, DeCastro sustained a torn MCL during the Steelers' third preseason game and did not return to practice until mid-November. He was in uniform the past two games but only used on special teams.
"We're ready to take the next step," Tomlin said. "Potentially, this week — depending on how that preparation looks."
Should DeCastro prove ready, Ramon Foster would move over to left guard, allowing All-Pro center Maurkice Pouncey to stay at his given position.
In past years, an injury such as the one DeCastro sustained Aug. 25 in Buffalo might have meant a lost rookie season. But with modified injured reserve rules implemented this season, DeCastro was placed on an IR list that allowed him to come back after eight weeks. He did not, however, immediately regain the starting job he won early in camp. The Steelers instead chose to ease him into NFL life.
"With a guy like him, it's more than health because he doesn't have a lot of playing background," Tomlin said. "So although he's been healthy, practice has been good for him, the technique growth and development has been good for him, just simply playing professional football has been good for him. So although he' been healthy, we still thought he had room for growth from an overall readiness standpoint."
Mendenhall suspended
The Steelers have suspended running back Rashard Mendenhall for conduct detrimental to the team.
Mendenhall has been inactive for the last two games after fumbling in a 20-14 loss to Cleveland on Nov. 25. He was third on the depth chart behind Jonathan Dwyer and Isaac Redman when the team released its updated chart on Tuesday.
The 25-year-old Mendenhall has struggled staying healthy over the last 11 months. He tore the ACL in his right knee in the 2011 regular-season finale and returned on Oct. 4 against Philadelphia, accounting for 101 yards and a touchdown in a 16-14 victory.
The Steelers replaced Mendenhall on the roster by promoting running back Baron Batch from the practice squad.