Published: Wed, December 12, 2012 @ 12:00 a.m.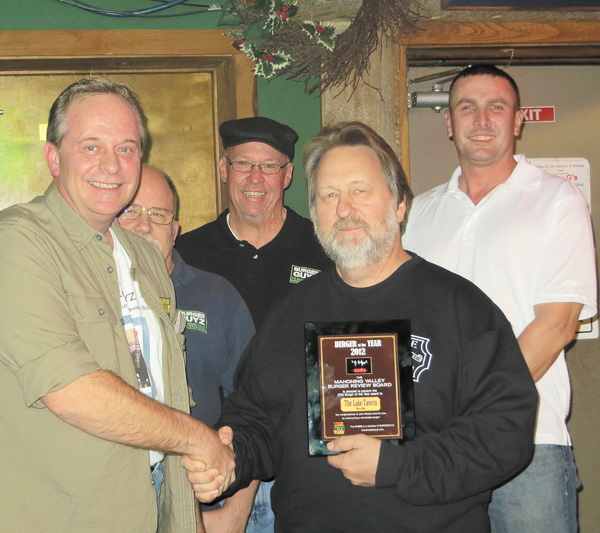 Photo
JT presents Lake Tavern owner John Palasics with the Burger Guys' 2012 Burger of the Year Award as Johnny, Scott and Eric look on.
When You Go...
Where:
The Lake Tavern
6071 State Route 46
Cortland, OH 44410
Phone: 330-337-0899
Phone:
330-637-1971
Hours:
Mon - Tues 11 am - 11 pm
Wed - Sat 11 am - 2:30am
Sun 12 pm - 9pm
Menu:
25 Burgers ($5.50 - $11.95)
add cheese .45, add chibata bread $1, cowabunga size 10oz - $2, add mushroom or bacon $1, add fries instead of chips $1
Website:
By Anthony M. Fuda
... And we have a winner!
The full-to-capacity crowd erupted with cheers when we presented Lake Tavern's owner John Palasics with 2012's Burger of the Year Award.
John said, "We're very excited to win this award, it's a wonderful thing." He gives a lot of credit to "the good, hard-working people who have been (at the Tavern) since the day it opened 10 years ago."
They have a saying at Lake Tavern - "People eat with their eyes first," and John says "Everybody from the cooks to the servers help present the great award-winning product."
With a burger on the menu for pretty much everyone's fancy, and the option to make it a cowabunga-sized 10 ouncer, this eatery had that little extra which pushed them over the top.
I thought this burger had just the right combination of everything you want in a great burger: mouth-watering flavor, the freshest of toppings, and seasoning throughout the beef. Usually a larger burger like Tavern's 10 oz gets slighted on the seasoning, but not here. I also liked the feeling when you sit down and eat you are part of the crowd, not just a table in the sea of customers.
JT said, "It seems like every year, our Burger Of The Year has that little something extra that sets them apart from the rest. Last year it was the boule rolls at Sunrise Inn. This year, I think it's the atmosphere as much as anything else. Don't get me wrong, it's an excellent burger! But look at this place, it's awesome! I mean it's 175 years old and John (Palasics) did such a fantastic job in the restoration it feels like you've stepped back in time."
Eric said, "My experience at Lake Tavern was very unexpected. I went there underestimating them as a contender. It was a quaint, rustic little tavern where everyone knows everyone, but the burger was anything but ordinary. They obviously prepare each one of the patties one at a time. The meat was seasoned throughout instead of on the top which is a must and a plus. The mega sized portion is worth the extra few cents and all elements of the ingredients were crisp, fresh and colorful. The meat was charred and then seared to lock in flavor. I was very pleased and was actually impressed."
Scott said, "This burger was just screaming award winner before I even tasted it. Not only did the burger look good, but it came with a healthy portion of fries, and when I tasted it, it was full of flavor."
Greg went with the bison meat for his burger and said, "The overall taste of the bison meat and how it was cooked to perfection was what set it apart for me. It was extremely juicy and the lean bison meat was cooked to a perfect medium rare, and it was seasoned perfectly."
You'll go to the Lake Tavern for the excellent burgers, but you will keep going back because of the great family atmosphere, which has kept its loyal customers returning.
2012 Hit List
Here is our "Hit List" from 2012. We think the list is a little misleading, because every burger was very good and any of the restaurants could easily have been in the top three.
Raptis Family Restaurant (Howland)
Mike's Penn Ave. Grill (Salem)
The Iron Bridge Inn (Mercer, PA)
Cricket's Bar & Grill (Youngstown)
The Stonebridge Grille & Tavern (Boardman)
Mason's Steak House & Lounge (Washingtonville)
Guy's BBQ (Youngstown)
Yankee Kitchen (Vienna)
University Pizzeria (Youngstown)
The Lemon Grove Cafe' (Youngstown)
Muscarella's Cafe' Italia (Sharpsville, PA)
We would also like to acknowledge some of this year's servers so you can ask for them by name when you go to any of these fine places: Jordan Krawchyk (Crickets), Joanna Raptis (Raptis), Allisun Brenner (University Pizzeria), Megan Logan (Yankee Kitchen), Heather Bornes (Muscarella's), Barby Ferraro (Iron Bridge Inn) and Jackie Metzgar (Mike's Penn Ave).
Year in Review

This year the Burger Guys were asked to be judges at the National Hamburger Festival in Akron. We lent our expertise and look forward to doing it again next year.
I had a little burger success of my own. After entering Sunrise Inn's Design Your Own Burger Contest, I was one of the 10 winners and had my name on the menu. Stop by and ask for Anthony Fuda's Fiesta Burger.
This year was also our first year being published in the Vindicator. We have had nothing but positive experiences with each step on our burger quest. Next year we look forward to delighting the readers each month with our burger ventures and hopefully highlighting some new and interesting burger joints that you might not have been to yet.
And a very big "Thank You" goes to the many burger fanatics who sent us leads to some absolutely awesome burgers! Get your favorite on our hit-list! Email: mvbrb@hotmail.com, Facebook: MVBRB