Construction at Poland fire station on time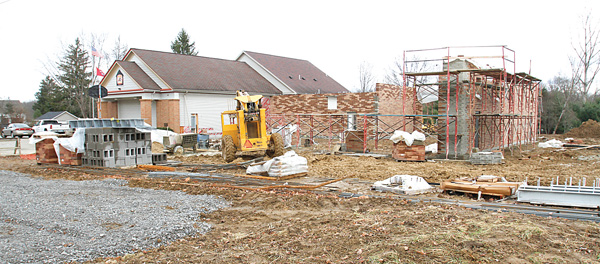 Photo
Built in 1987, the Western Reserve Joint Fire District is adding more than 4,500 square feet to its Station 92.
POLAND
The walls are up on an expansion that would double the size of a fire station on state Route 170.
The Western Reserve Joint Fire District is adding more than 4,500 square feet to its Station 92, which was built in 1987 and covers the southern part of the district that includes Poland village and township.
The project cost will total about $1 million, said Assistant Chief Jim Stewart.
"We decided to go with this project now because of the timing of finances, and we have a new apparatus coming in and things are crowded right now," Stewart said.
A $414,000 fire engine was purchased earlier this year. It and the expansion will be financed using a 1-mill capital-improvement levy that generates about $340,000 annually.
The station addition will house fire engines, rescue vehicles and other apparatuses. The district bought the property directly south of the fire station for the expansion. The land cost $80,000, which included demolishing a house on the property.
Construction on the expansion is on schedule, said Bryan Horne of Hively Construction, the project's general contractor.
"Roofing is expected to begin this week. The masonry work, though, can be done only if the temperature remains above freezing — and that includes night temperatures," he said. "If we have a typical winter, there will be a time when we have to halt."
The building should be done in three months, and the entire project, including paving and landscaping, is slated for completion by June 30, Horne said.
Team 8e Architecture of Canfield, which designed the football stadium at Poland Seminary High School, was hired to plan the addition.
"We want to make it look like it all belongs together. It will have a masonry front and maintain the character of the existing buildings," said Thomas Madej, the firm's president.
There also will be a "full vision" door so the public can see the equipment, Madej said.
The new driveway and dual station doors will allow firefighters to drive trucks to the back of the station and pull through to the front, instead of backing in the station off busy Route 170, Stewart said.
He said the station's design was chosen carefully.
"We want a blend between us and the school," he said.