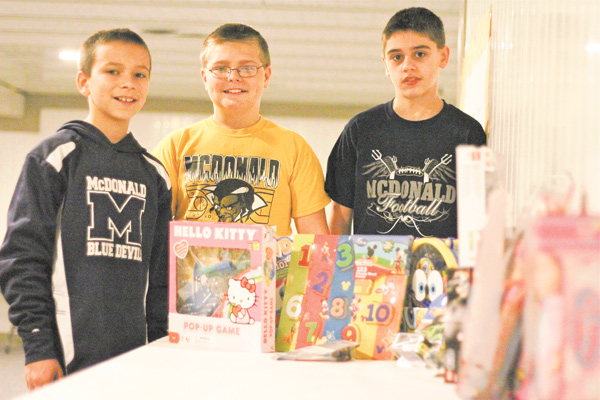 ---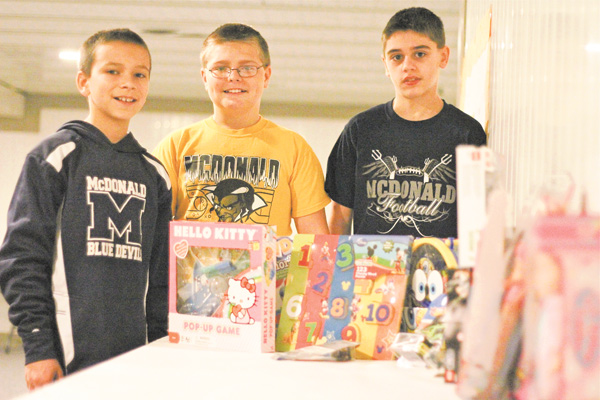 Photo
Jack Bucan, Ian Socha and Adam Price, all of McDonald, display toys they received for their birthday that they are donating to Akron Children's Hospital Mahoning Valley. They turn 12 Wednesday (12-12-12) and will celebrate with a party at Towjo's Bar and Grill in McDonald.
MCDONALD
Some would say the number 12 is a special number.
There are 12 months in a year, 12 days of Christmas, 12 folds in the U.S. flag-folding ceremony, and 12 people have walked on the moon.
But three boys from McDonald, all turning 12 on 12-12-12, a date that won't occur for about 100 years, have given the day another special meaning by having a combined birthday party in which all the gifts are going to patients at Akron Children's Hospital Mahoning Valley.
The planets were clearly in alignment to enable this to occur: It took one of the boys being born early, one at the time predicted, and another making his arrival late.
There's more.
The Roosevelt Elementary School sixth-graders — Ian Socha, Adam Price and Jack Bucan — were all born in the same hospital, St. Elizabeth Health Center in Youngstown, on the same floor. Their mothers, Mary Skruck Bucan, Christine Mortellaro Price, and Trina Christopher Socha, are all graduates of McDonald High School.
No kidding.
But the real story is that instead of gifts for themselves, the boys asked everyone invited to the party, a private celebration, to bring a toy to be donated to patients at the children's hospital in Boardman.
The party, with food, fun, a photo booth, disc jockey and prizes, will be at Towjo's Bar and Grill in McDonald, which donated use of its banquet room.
Although the birthday party is private, the community is welcome to bring new, unwrapped toys at Towjo's, 412 Ohio Ave., through Saturday also to be donated to Akron Children's. Suggested donation items include toy cars, superhero figures, dinosaur items, dolls, jewelry-making kits, nail polish, doll-house furniture and craft kits.
"It's kind of neat," Ian said of the combined birthday celebration. "Our parents talked about giving gifts to the children's hospital instead of receiving gifts. We liked the idea and kind of went with it."
In many ways, Jack, Ian and Adam are typical 12-year-olds.
Their favorite foods are pizza, hot wings and steak, respectively, and they like "Modern Family," wrestling and the Disney Channel on television. They play football, basketball, and baseball for McDonald youth teams. Adam is recovering from a broken leg to prove it.
But their generosity and thoughtfulness perhaps is not so usual.
"There can't be too many 12-year-olds who get to celebrate their birthday on the same day as two of their classmates on a date that only happens every 100 years," said JoAnn Stock, director of development at Akron Children's Mahoning Valley.
"It's wonderful they're having fun with it, and we couldn't be more honored and grateful that Ian, Adam and Jack are using their special occasion to collect gifts for our patients."
Their parents are also pretty impressed with their sons.
"For a town of only 3,100, having three boys born on the same day at St. Elizabeth and turning 12 on 12-12-12 is so rare and such a neat occurrence, we just had to do something special.
"As parents, we wanted to teach our kids to celebrate and enjoy life but also to give back to the community. The boys all took to this idea without hesitation," said Mrs. Price, a 1989 McDonald graduate who also has a journalism degree from Ohio State University. She and her husband, John, who works out of Carpenters & Joiners Union Local 171, have two other children: Nathan, 10, and Avary, 5.
"I think giving to the kids in the hospital is just an outstanding thing. The boys will have a family party, but they won't have a friends party this year," said Mrs. Socha, a caregiver. She and her husband, Michael, a technician with Armstrong Cable, also have two other children, Aiden, 9, and Ava, 4.
Adding extra incentive to giving gifts to the kids at Akron Children's is a boy from their school who is there being treated for leukemia, though at the time they decided to give their gifts to Akron Children's that was not true, Mrs. Socha said.
"It is good boys doing a good thing. It's a great example for other kids," she said.
"It's a unique thing to do," said Mrs. Bucan, a 1986 graduate of McDonald High School and a classroom aide at McDonald Schools. She also has an associate degree in applied science from Youngstown State University. Her husband, George, is a driver for UPS.
"We are very proud of all three of the boys. It makes you feel good as parents," she said.