Chargers stun listless Steelers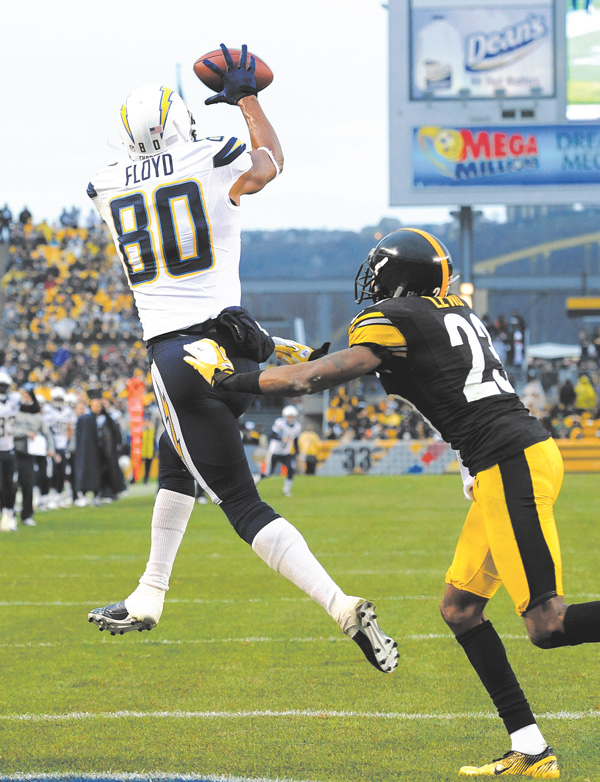 ---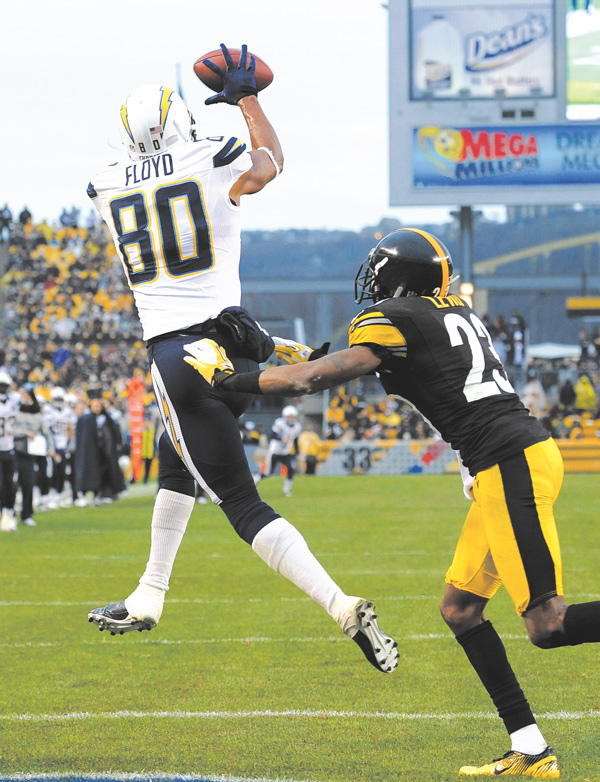 Photo
San Diego Chargers wide receiver Malcom Floyd (80) catches the ball for a touchdown in front of Pittsburgh Steelers cornerback Keenan Lewis (23) in the third quarter of an NFL game Sunday in Pittsburgh. The Chargers won 34-24.
Associated Press
PITTSBURGH
So much for Ben Roethlisberger's triumphant return. Ditto the notion the Pittsburgh Steelers had finally turned the corner.
Rhythm disrupted by a relentless San Diego pass rush, Roethlisberger struggled early and the Steelers never recovered in a listless — not to mention perplexing — 34-24 loss on Sunday.
"We got whupped," Pittsburgh linebacker Larry Foote said.
A thumping that continued a maddening trend for the Steelers (7-6), who have won on the road at Baltimore, Cincinnati and the New York Giants this year but also fallen to Tennessee, Oakland, Cleveland and now the Chargers (5-8).
Roethlisberger completed 22 of 42 passes for 285 yards and three touchdowns in his first game back after spraining his right shoulder and dislocating a rib in an overtime win against Kansas City nearly a month ago.
Most of the yards and all of the scores came after the Steelers had fallen behind by 24 points to a team that had never won in Pittsburgh during the regular season.
"I have no clue [why we're inconsistent]," Roethlisberger said. "If I knew I don't think we'd do it anymore. I thought we'd play better."
The Steelers thought they'd revived their season last Sunday in an emotional victory over the Ravens behind third-string quarterback Charlie Batch. Instead, they looked disinterested at times and sloppy at others against a team that hardly looked like it was playing out the string.
Philip Rivers threw three touchdown passes, two to Danario Alexander, and underachieving San Diego beat the Steelers on the road for the first time since the AFL and NFL merged more than 40 years ago.
"This isn't necessarily the team we thought we'd have on the field in December, but this is the type of performance we thought we'd put together," said Rivers, who completed 21 of 41 passes for 200 yards.
The Chargers have been one of the NFL's biggest disappointments after a 3-1 start evaporated into a 1-7 slide that fueled speculation coach Norv Turner and general manager A.J. Smith could be fired at season's end.
Maybe, but for an afternoon, anyway, the Chargers played with a fearlessness they've lacked during their swoon.
The injury-ravaged offensive line kept Rivers out of harm's way. The Steelers only sacked Rivers once, and all that extra time in the pocket helped him convert 12 of 22 third downs, allowing San Diego to chew up the clock and keep Roethlisberger from getting going while the game was still competitive.
Mike Wallace caught two second-half touchdowns but also dropped a 50-yard rocket from Roethlisberger in the first half that would have gotten Pittsburgh out of an early hole.
Antonio Brown also scored in the final seconds but saw a 40-yard pass clang off his chest in the second quarter that could have made a difference.
The running game the Steelers hoped would take pressure off Roethlisberger's right arm never materialized. Jonathan Dwyer led the Steelers with 32 yards, or one more than Roethlisberger had during five hold-your-breath scrambles.
San Diego controlled an ugly first half, taking a 13-3 lead at the break behind a 39-yard touchdown pass from Rivers to Alexander and a pair of Nick Novak field goals.
The Steelers didn't even cross midfield until a last-gasp drive to end the half ended with a 49-yard Shaun Suisham field goal.
Any boost the kick provided Pittsburgh disappeared during the first 10 minutes of the third quarter.
San Diego converted five straight third downs during a clock-chewing drive, including a 17-yard burst up the middle by Ronnie Brown on third-and-13 from the Pittsburgh 29.
The play wasn't designed to get a first down, but a pair of missed tackles helped the Chargers extend the drive. Three plays later Rivers found Michael Floyd for a 3-yard touchdown to make it 20-3.